NBA Picks
NBA Pick: Cleveland Cavaliers at Milwaukee Bucks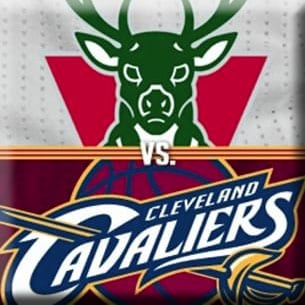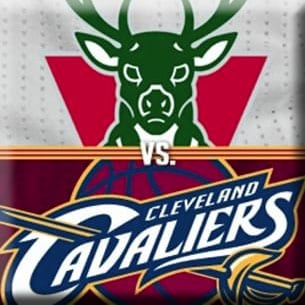 The Cleveland Cavaliers go for win number nine in a row on Saturday night, as they enter the Bradley Center to take on the division rival Milwaukee Bucks. Milwaukee figures to get star point guard Michael Carter-Williams back in the lineup and could use his scoring punch to end a two-game slide and get the Bucks back to .500. That will naturally be easier said than done against King James and the white hot Cavs, of course.
Matchup History
People tend to forget what life was like for the Cavaliers before LeBron James, as even with many years of his dominance over Milwaukee, the Bucks still hold the upper hand in this series through history, with a 115-84 record during the regular season. That doesn't really apply to the here and now, as the Cavs showed the Bucks what was up last year, winning the season series, 3-1. So, Milwaukee owns this matchup if we look at it as a whole, but with LeBron healthy and in town, it's obviously a totally different story.
Cavs Preview (-5.5)
Cleveland dropped it's season opener to the Chicago Bulls and has been trying to make up for it ever since. It hasn't always been perfect and Kevin Love's shot specifically hasn't been falling consistently, but the Cavs have gotten it done to the tune of eight straight wins. Their offense is a little rough around the edges with both Kyrie Irving and Iman Shumpert out with injuries, but they're still hanging over 102 points per game on their opponents with regularity. They're been especially good at closing out games, though, while their stingy defense is alive and well with opponent's putting up just 94 points per game on them. Tonight wouldn't be the most shocking trip-up scene for the Cavs, however, as they did lose once to Milwaukee last year and their lone loss of the 2015-16 NBA season did come on the road.
Bucks Preview (+5.5)
Milwaukee was a very solid defensive team a year ago, but with Greg Monroe manning the middle of their defense, their defense has fallen apart (giving up 101 points per game). Michael Carter-Williams' length has been missing from the starting lineup, as well, but he should be back for this home date with the Cavs. Milwaukee hasn't really been themselves offensively either, and the absence of O.J. Mayo and Jabari Parker can attribute to that. Both could be out again tonight, so this mixed bag Bucks squad still isn't going to be quite at 100% when they take on what of the most talented (and hottest) teams in the entire NBA. It helps that this matchup is a familiar foe and at home, but Vegas thinks Milwaukee is going down for the third game in a row for a reason.
The Pick
There isn't much reason to side with the Bucks as a far as a straight up pick. Cleveland is a decent 3-1 on the road and is super hot right now, while they had little trouble dispatching Milwaukee last year, when they were arguably even better. The Bucks are not total pushovers and playing at home still gives them a boost, but I don't like them straight up at all.
Against the spread is another story. Cleveland has been taking teams down, but they haven't been blowing them out. In their last three games, they've only won by four points, while the only team they've beaten by more than 10 all year was the Grizzlies (by 30) in the second game of the year. Cleveland also just doesn't do very well ATS in general against divisional foes, as they're a dreadful 7-15 in their last 22 games ATS inside the division. Milwaukee makes it even more complicated by going 1-5 ATS in their last six home games, but I think this game has a competitive atmosphere.
LeBron James sets the tempo and controls the game to a win, but Milwaukee is at home and the Cavs haven't been blowing people away.

Cavs win, but Bucks beat the spread.