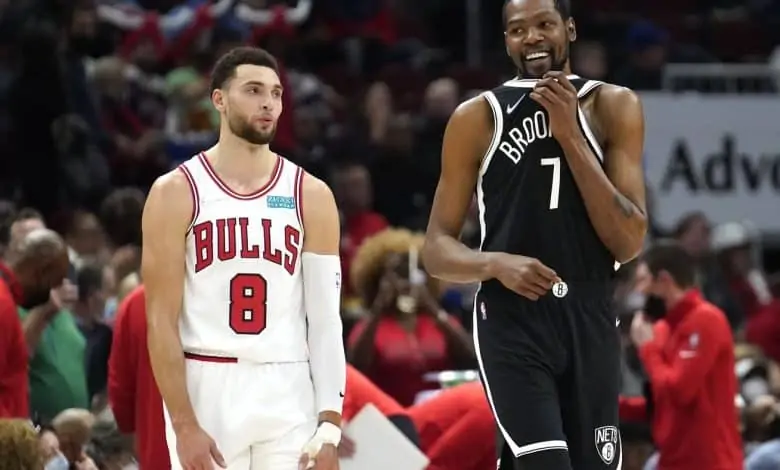 We've got a unique 10:00 PM ET start in the January 12th Nets at Bulls betting matchup. This is the second game of the ESPN double-header that is kicked off with Luka Doncic and the Mavericks meeting the Knicks at Madison Square Garden.
Chicago is a -2 point favorite in this matchup between the top two teams in the Eastern Conference. The Bulls are playing on the back to back here, but really in name only as Chicago breezed to a 133-87 win over Detroit at the United Center on Tuesday. The real question here is who plays for the banged up Nets?
Health Concerns for Brooklyn
Coach Steve Nash was coy on the status of James Harden (knee) and Kyrie Irving (ankle) replying, "handsome" to a question about how they looked in the shootaround. Harden sat out Monday's 114-108 loss in Portland on Monday, but that was on the second leg of a back to back after an OT win over the Spurs in Brooklyn the night before.
The duo – as well as Nic Claxton (hamstring – all did practice in full so they should assumedly be good to go in the January 12th Nets at Bulls betting matchup. Lamarcus Aldridge (foot) is definitely out for this game which does give Chicago a bit of an advantage in the paint.
Kevin Durant did play in both legs of the back-to-back but is fatigue going to catch up to him here? In the last four days Durant has 43:12 of court time in OT vs. the Spurs, a flight out West to Portland, 41:34 on the court vs. the Trail Blazers and then an immediate flight back to Chicago. That's a wild stretch.
Bulls Set to Prove Legitimacy
Chicago has gone 27-11 on the year and have a 2.5 game lead over the Nets in the Eastern Conference. That being said, most people assume it's only a matter of time before Brooklyn or defending champ Milwaukee climbs back into that spot – or even Miami or Philadelphia for that matter.
What the Bulls can do on Wednesday is prove they are for real and in the process complete the three game season sweep over Brooklyn. That includes a 118-95 victory in Brooklyn as well as a 111-107 win at the United Center in early December. Of course the Nets didn't have Irving for either of those games either.
Chicago is technically on the back to back but the 133-87 win over the Pistons allowed Billy Donovan to go light on the minutes with Zach LaVine logging the most at just 29:05 of court time. DeMar DeRozan had 20 points and 12 rebounds in just 26 minutes vs. Detroit so he should be fresh for this huge matchup.
Free January 12th Nets at Bulls Betting Preview
Brooklyn had Tuesday night off but that's still a lot of back and forth travel and Durant especially has had a ton of usage lately. This is going to be one of the bigger matchups at the United Center in recent history, especially with the nationally televised coverage. The late (and unique) 9:00 PM CT tip-off should have fans extra rowdy.
Bulls 125 – Nets 117
Free Pick: Bulls -2.5