NBA Picks
Miami Heat at Golden State Warriors Betting Preview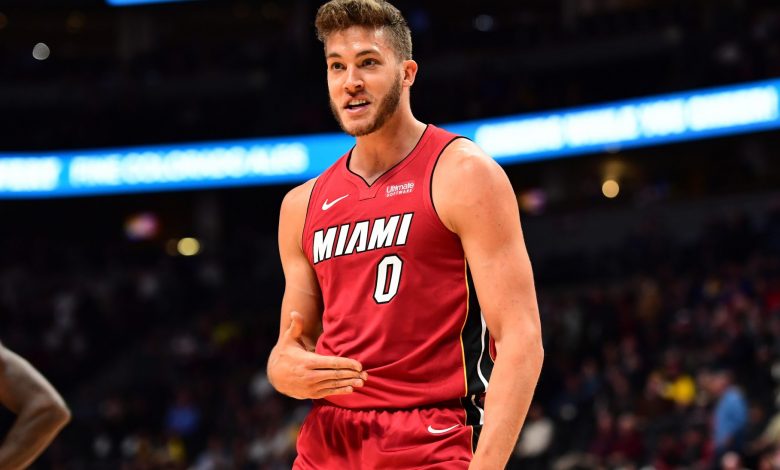 ust days before the All-Star break, it's an inter-conference matchup tonight in San Francisco as the Golden State Warriors (12-41, 15th West) host the Miami Heat (24-18. 4th East). The Heat come in looking for a win to continue their climb up the East standings, while the Warriors hope to play spoiler in a lost season.
Here is a preview for tonight's game, along with odds and a free pick.

By the Numbers
First the road team Miami, who has dropped three straight and five of their last 10. So far, the Heat rank 15th in points per game with 111.9 on a solid 46.9 percent from the field. Their three-point percentage of 37.9 in second in the league, with the Heat drilling 13.0 threes a night on average. Their 8.7 offensive boards are the second-fewest in the league, but their 25.3 assists rank a respectable 11th.
Defensively, Miami sits just outside of the top-10 in points allowed with 108.3. Teams shoot 44.5 percent of the Heat, the sixth-lowest rate, and a league-low 33.6 percent from beyond-the-arc. Elsewhere on D, they're 22nd with 7.1 steals and 26th with 4.2 blocks per game.
As for Golden State, they have dropped two in a row and seven of their last 10 contests. Despite playing a fast tempo, the Warriors are 25th in points per game with 106.4 on the second-worst percentage of 43.3. Both their threes made (10.5) and three-point percentage (34.2) rank 26th in the NBA. However, their 16th in offensive rebounds and 12th in both assists with 25.2 and turnovers with 14.0.
Defense is a problem for the limited Warriors, as their 114.8 points allowed is 24th. Opponents have scored on 47.5 percent of their shots and 38.4 percent of their threes, the latter being the second-worst in the league along with the 13.4 threes allowed. But Golden State is tied for 18th with 4.7 blocks and averages the fifth-most steals in the league with 8.5.

Who to Watch
The Heat will be shorthanded once again tonight, as both Jimmy Butler and Tyler Herro will likely sit for their third and fourth straight games, respectively. This will put more emphasis on big man Bam Adebayo. Gearing up for this first All-Star game this weekend, Adebayo is averaging a career-best 16.0 points and 10.4 rebounds, along with just under five assists and more than a block and steal on defense. He has the ability to fill up a stat sheet, evident by yesterday's game against Portland in which he had a 13-12-7-3 line. Expect the 22-year old Adebayo to have a big night tonight.
Along with Adebayo, guard Goran Dragic should get even more run with no Butler or Herro on the court. Dragic shined yesterday with 27 points and seven assists, as his 16.2 points per game ranks second only to Butler. There are also new acquisitions Jae Crowder and Andre Iguodala. Acquired at the trade deadline, Crowder impressed in his first game with the Heat, scoring 18 points and grabbing 11 rebounds, while Iguodala hopes to build off of his season-debut of two points and six rebounds in 23 minutes.
In a season with barely any Stephen Curry and no Klay Thompson, the Warriors will be Andrew Wiggins' team going forward. Acquired in a deadline deal for D'Angelo Russell, Wiggins scored 24 points in his Golden State debut Saturday against the Lakers. Three years after averaging a career-best 23.6 points with the Timberwolves, Wiggins is averaging 22.5 points on 44.8 percent shooting, along with 5.1 rebounds and 3.7 assists. So long as Curry and Thompson are out with injuries, expect Wiggins to be the focal point of this new-look Warriors team.
In addition to Wiggins, forwards Draymond Green and Marquese Chriss will try to help the Warriors pull off the upset. Green, the lone member of Golden State's championship core who isn't gone or hurt, is averaging 8.4 points, 6.3 rebounds and 6.1 assists per game. He is capable of filling up a stat sheet as well, evident by last Monday's game against the Wizards in which he had 12 points, 10 boards and seven assists. As for Chriss, the journeyman set a personal record on Saturday against Los Angeles, scoring 20 points on 9-for-10 shooting in the first half alone. He finished the game with 26 points and nine rebounds, and now he has averaged 14.3 points, seven boards and 2.8 blocks in February.

Odds and Pick
Even though this is a huge mismatch in terms of records, the Heat are only -5.0 tonight on the road. This is the first meeting since November 29th, when Miami grabbed a solid 122-105 win at home.
Tonight, the injuries of Butler and Herro will certainly change how the Heat operates. There is also the Heat's road record, a below-average 12-15, showing they can be beaten. But I still fully expect Miami to win comfortably. Expect the Heat to still shoot plenty well from three and take down a new-look Warriors team. Give me Miami -5.