NBA Picks
NBA Pick: Houston Rockets at Golden State Warriors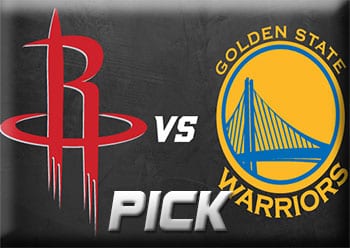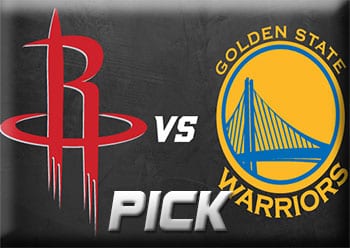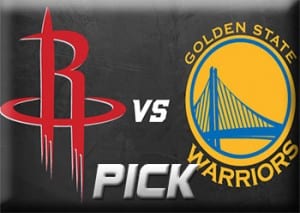 The Houston Rockets get another chance to prove their worth in the brutal Western Conference on Tuesday night, as they travel to Oracle Arena to take on the defending champion Golden State Warriors. The two sides square off for the third time since clashing in last year's Western Conference Finals, while James Harden and co. look for the upset and their first win in the series on the year.
Matchup History
Houston and Golden State certainly have a bitter history when you think of recent events, but they've also met 205 times during the regular season, with last year's clash in the WCF series (Golden State won, 4-1) being their first ever playoff battle. Houston has had more success overall, though, with a strong 118-87 record in regular season play. It shocks no one to learn that the Warriors have held the upper hand recently, of course, with a 4-0 sweep last year and a 2-0 season series lead so far in the 2015-15 NBA season. Golden State has won the last seven games and will look to win #8 in a row at home on Tuesday. Should they lose, it'd be their first loss at home on the year.
Rockets Preview (+14.5)
Houston has not been the elite team they were pegged as a year ago. They've fired their head coach, they've been swept up in countless trade rumors and they've dealt with some injuries. Their biggest issue by far, however, is their inability to play any kind of defense. That being said, the Rockets put up nearly 105 points per game and when healthy, still have a nasty duo with James Harden and Dwight Howard running the show. That duo hasn't had much success against these Warriors, though, and have been a very pedestrian 27-26 on the season. They certainly have the odds stacked against them as they try to be the first road team to take down the Warriors at Oracle Arena this season.
Warriors Preview (-14.5)
Golden State has been absolutely amazing all year, as they waltz into tonight's showdown with the Rockets at a staggering 46-4. The Warriors are a perfect 23-0 at home and haven't lost in nine games, while their current seven-game run over the Rockets is rather daunting. Stephen Curry is two games removed from an insane 51-point outing and has always found success against Houston's weak defense, plus he's far from on his own offensively with the Warriors leading the league with an eye-popping 115 points per game. Golden State is basically unbeatable at home and has a mental edge over the Rockets, but they'll still have to bring their A game in what figures to be a high scoring shootout. The team will be without big man Festus Ezili (out 6 weeks with knee injury) but have fared just fine with injuries to role players in the past.
The Pick
The easy straight up pick is the Warriors. They haven't lost at home yet this year and they haven't fallen to what looks like a borderline bad Rockets team in seven straight regular season games. The simple facts make them the obvious call, with the only hesitation coming against the spread. There isn't much evidence to sway us with ATS knowledge, but the Warriors are a strong 4-1 ATS over their last five home games.
But this line is insane. The Rockets can score the ball and these teams hate each other, so even a moderate blowout still might not lead to the Warriors winning by almost 15 points. The Warriors have won the last 7 regular season games, but the most recent win came by just four points. That might be the tiny sliver of optimism bettors need to give Houston a shot at keeping this close enough to beat the spread.
I'll take the Warriors all day straight up, but I like the Rockets to beat the spread tonight.