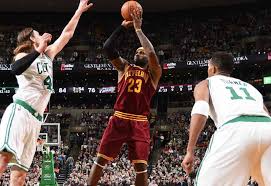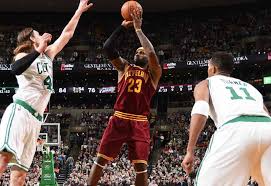 Our Boston plays Cleveland NBA East Finals game five pick offers the Cavs at -15 and the over/under at 217.5. Cleveland leads the series two games to one, as they try to keep Boston in check. The game, which will be played tonight at 8:30 p.m. in Cleveland will make or break the series for each of these teams.
If the Cavaliers win, the Eastern Conference Finals are just about all done, but if the Celtics take tonight's contest, then this becomes a three-game series where the Green regains home court and anything can happen.
Important Players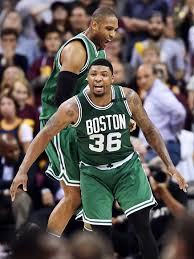 PG Isaiah Thomas missed game three against Cleveland and the Celtics won. PG Marcus Smart went on a tear, scoring 27 points and hitting 70% of his threes. Thomas is out for the rest of the playoffs, so it will be important for Smart to be able to continue to step up and perform at a high level. At the same time, Boston needs Al Horford to be their inside/outside shooter, while Jae Crowder offers keen play in the paint and shooting guard Avery Bradley puts double figures on the scoreboard.
The Cavs need to rebound from their 111-108 home court loss. It's the usual suspects for this team. But one player specifically must perform better than he did in game three. That's LeBron James. He had an off game the other night, putting in just 11 points, which was about 20 points below his playoff average of 32. If James finds his mojo again, then this game goes to the Cavs.
Five Keys to the Game
Smart at PG must perform at a high level for Boston
James has to be his old self for the Cavs to succeed
Horford from three and, also, inside
Cavalier outside game has to be efficient and effective
Another career playoff performance from Kelly Olynyk?
Boston Plays Cleveland NBA East Finals Game Five Pick
That 15-point spread looks mighty large. If it were not for the manner in which the Cavaliers humiliated the Celtics 130-86 in game two, we might be inclined to consider it ridiculously large. In addition to that 44-point win, Boston does not have Thomas and their bench is thin. Still, that doesn't automatically give the Cavaliers a blowout win or even a victory by a narrow margin. We are going with the Celtics in this one. Our Boston plays Cleveland NBA East Finals game five pick is the Celtics at +15 for -105. We also like over 217.5 for -105.
Boston Plays Cleveland NBA East Finals Game Five Pick: Celtics at +15 for -105 and over 217.5 for -105