NBA Picks
Denver Nuggets at Utah Jazz Betting Pick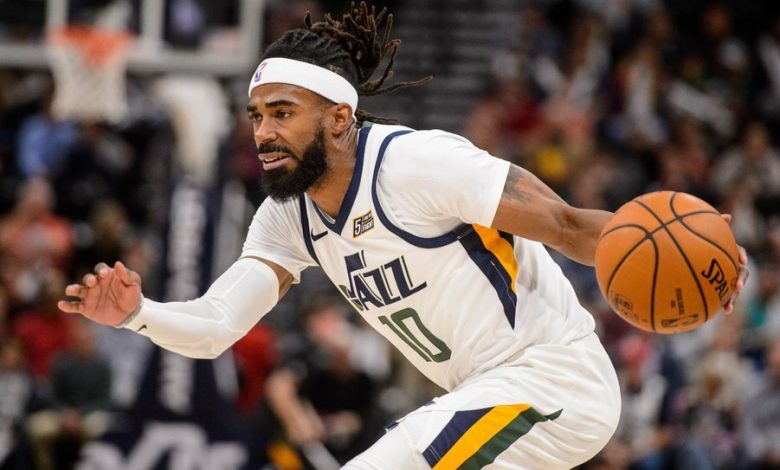 Two teams who sit near the top of the Western Conference will battle it out tonight in Salt Lake City, as the Denver Nuggets (35-16, 3rd West) visit the Utah Jazz (32-17, 4th West). The last meeting between these teams was last Thursday, when the Nuggets prevailed 106-100.
Here is a preview for tonight's matchup, along with odds and a free pick.

By the Numbers
We'll start with the Nuggets, who have won three of their last four, one of which was yesterday against the Trail Blazers and another at the league's best team the Bucks. Denver is only 19th in points per game at 110.1, shooting at a solid 46.2 percent clip. They are averaging 10.8 threes per game, 23rd in the NBA, on 35.4 percent shooting from beyond-the-arc. They are, however, tied for second with 11.3 offensive rebounds per game and rank third with 26.4 assists.
Defensively, Denver has held opponents to 106.4 points, the fifth-fewest in the NBA. They have also limited teams to 11.1 made threes on 33.9 percent shooting, which is the third-lowest rate in the league. While the Nuggets are just 19th in blocks, they crack the top-10 with 8.1 steals per game.
As for the home team, the Jazz are in the midst of a four-game losing streak, one of which to the Nuggets, that culminated in a 17-point loss on the road in Portland. Right now, the Jazz are just slightly ahead of Denver in terms of scoring, ranking 16th with 111.1 points per game on an efficient 47.3 percent. Utah's three-point percentage is the best in the league at 38.7 percent, as they hit 13.1 treys per night. They are, however, just 27th in offensive rebounding and 26th in assists with 22.1.
Defensively, the Jazz are still one of the league's best, ranking eighth with 107.0 points allowed per game. Teams are shooting 44.9 percent against Utah, 10th-lowest in the league, as well as 34.3 percent from three. Blocks are a key weakness, as they average the third-fewest blocks with 4.0, along with the second-fewest average of 5.9 steals.

Who to Watch
Denver was one of the four teams involved in yesterday's four-team deal, acquiring guard Shabazz Napier along with forwards Noah Vonleh, Gerald Green and Keita Bates-Diop, parting with Malik Beasley, Juan Hernangomez and Jarred Vanderbilt. However, not only are the statuses of their new players seeing the court tonight in doubt, but Paul Millsap, Mason Plumlee and Michael Porter Jr. are all out, with Will Barton and Jerami Grant questionable.
This leaves Nikola Jokic and Jamal Murray as the two main options on this depleted roster. Jokic leads the team with 20.4 points, 10.1 assists, and 6.8 assists. He is the only Nugget who has started every game this season, so his availability and production tonight will be vital. Meanwhile, the point guard Murray is averaging 17.7 points with 4.6 assists, leading a deep guard group.
This is where the Jazz have a big advantage. Utah has been pretty fortunate in the health department and will have full roster compared to Denver's that has been decimated by injuries and the trade. The star for Utah, Donovan Mitchell, is averaging 24.6 points per game, shooting 45.9 from the field and 36.4 percent from deep. He has averaged just over 26 points in the last 10 games and will play a big role for Utah tonight.
Along with Mitchell, keep an eye out for Bojan Bogdanovic and Jordan Clarkson. Bogdanovic, one of Utah's acquisitions over the summer, is averaging 21.2 points a night this year and shooting close to 48 percent from three over his last 10 games. Meanwhile, Clarkson has been a dependable scorer off the bench in 19 games with the Jazz, dropping 37 points against the Nuggets last week to raise his average to 14.7 points per game this season.

Odds and Pick
With all of the complications with Denver's roster tonight, the Jazz are big favorites at home, listed at -9. While the Nuggets are very good and will still have Jokic, it's hard not to like Utah big tonight. One of the best things about Utah is their depth, which will be on full display tonight. They simply have too many scoring options, especially beyond-the-arc, for Denver to keep up with. In their home arena, and with the Nuggets on the second half of a back-to-back, give me Jazz -9 tonight to snap their losing streak.