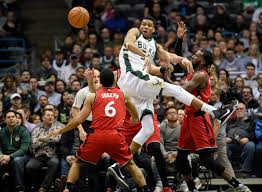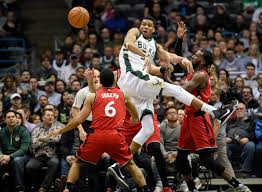 The Milwaukee Bucks (42-40), who finished sixth in the NBA East, play the Toronto Raptors (51-31), the third-place club in the conference. Over the years, Toronto has had few problems with the Bucks. In the past four seasons, the Raptors have beaten then 13 of 15 times, including winning three of four this season. Still, Milwaukee should not be completely discounted in this series. In the month of March, they went 14-4 and since their last loss to Toronto on Jan. 27, they are 21-15. Our Milwaukee plays Toronto 2017 NBA playoff free pick offers insights into this upcoming series, which tips off at 5:30 p.m. today.
Milwaukee Bucks Keys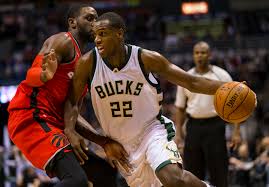 The Bucks are scoring on average 103.6 PPG while allowing 103.8. Over their last 10 games they have gone 5-5. The team is fourth in the NBA in field goal percentage with a mark of 47.4%. The teams 37.0% three-point mark ranks them 10th in the league. The Bucks' free through mark of 76.8% is 20th in the NBA.
The Bucks come to this series in relatively good health. SF Giannis Antetokounmpo (22.9 PPG, 8.8 RPG, 5.4 APG) is a major contributor, leading the team in points. He's also a major defensive force making 1.64 SPG and 1.89 BPG. PF Jabari Parker brings ample scoring chops to the floor, hitting 49% of his shots and 37% of his threes. SG Khris Middleton is especially effective from the three-point arc completing 43% of his shots from downtown. Center Greg Monroe (11.7 PPG, 6.6 RPG, 1.14 SPG) is a 53% shooter and a major force in the frontcourt.
Toronto Raptors Keys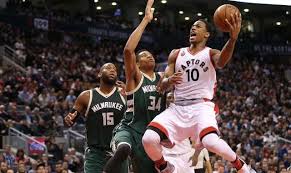 The Raptors are holding teams to 102.6 PPG. That mark is fourth in the East and within a fraction of the other three teams. They are averaging 106.9 PPG, putting them at +4.3. Toronto comes in with a four-game winning streak and having won their last four. They're grabbing 43.3 RPG, which is about three better than the Bucks. Plus, the Raptors are good on 46.4% of their shots from the field, 36.3% of their three-point attempts, and 79.6% of their frees.
The Raptors are a solid team with PG Kyle Lowry notching 7.0 APG while scoring 22,4 PPG. Lowry is hitting 41% from the arc and 46% from the field. Top scorer SG DeMar DeRozan, who's averaging 27.3 PPG, is sound from the field with a 47% completion rate, but he's only good on 27% from the arc. Lowry and DeRozan have quick hands and are solid on the steal. Center Jonas Valanciunas is grabbing 9.5 RPG and PF Serge Ibaka, who's averaging 1.43 BPG, is taking down 6.8 RPG.
Top Series Factors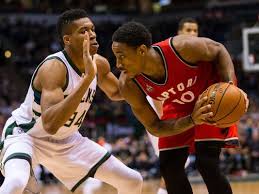 Here are some important factors to consider:
Toronto has dominated the Bucks
The battle in the paint will be a major factor
Milwaukee is a very weak free throw team
Antetokounmpo could turn this series for the Bucks
DeRozan's outside shooting looks to be a major factor
We like Toronto's D and see it as being huge in this series
Raptor offensive rebounding will give them a few extra shots
Milwaukee Plays Toronto 2017 NBA Playoff Free Pick
Our Milwaukee plays Toronto 2017 NBA playoff free pick sees the Raptors taking the series in five games. Toronto has too many weapons, and they are tough on D and a better scoring team.
Milwaukee Plays Toronto 2017 NBA Playoff Free Pick: Raptors in five