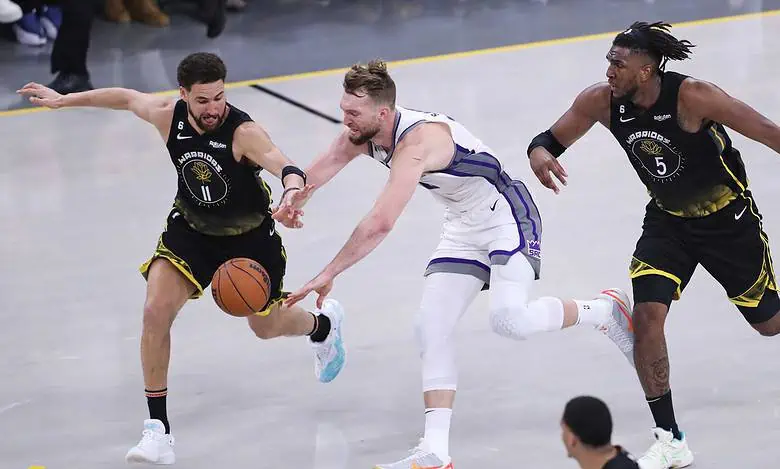 It was no Draymond Green, no problem for Golden State as they picked up a 114-97 win on Thursday to pull to within 2-1 in their Western Conference first round series with Sacramento. GSW looks like a completely different team back at the Chase Center and are -7.5 favorites in Kings at Warriors Game 4 betting.
Sacramento will be in a great spot if they can head back home with a 3-1 series lead after stealing a victory on Sunday afternoon (3:30 PM ET, ABC). The Kings couldn't cover +6 in Game 3, but 57% of the betting public are still taking the points in Game 4.
Why the Kings Can Cover +7.5 Points
Sacramento got their visit to Chase Center out of the way on Thursday, losing by 17. They should be a bit more adjusted in the Kings at Warriors Game 4 betting contest, and Sacramento did play much closer in the two games in the Bay this season, losing 130-125 and 116-113 covering the point spread in both contests although they were back in October and November.
The Warriors pulled out a Game 3 win without Green – who was suspended for his stomp on Domantas Sabonis in Game 2 – but the Kings have won both games the Golden State PF has played this series. Maybe GSW had addition by subtraction without Green in the lineup and thus his return could be beneficial for Sacramento?
One big reason the Kings can cover +7.5 on Sunday has been the play of De'Aaron Fox, who put up a 28/9/9 line in Thursday's defeat. Fox is now averaging 29.3 ppg this postseason, but Sacramento would prefer a bigger game from Keegan Murray who is struggling to just 3.3 ppg in his first playoff series.
Why the Warriors Can Cover -7.5 Points
Golden State cruised to a 17 point victory on Thursday night even without Green, getting a big boost from Kevon Looney who had 20 rebounds and 9 assists. The Warriors have now covered the number in 40 of their last 57 home games and are now 34-8 at the Chase Center this season.
Despite the Game 3 win, Golden State is still down 2-1 in the series but they are a completely different team at home compared to on the road. The Warriors actually had the fourth fewest road wins in the NBA this season (11-30) so they are a team to fade away from the Bay, but have looked like the defending World Champions when playing at home.
While Fox is on fire for the Kings, Steph Curry hasn't had a bad little postseason himself dumping in 31.3 ppg for the Warriors. Those two can essentially cancel each other out, and Golden State has to get an edge in depth with the likes of Klay Thompson and Andrew Wiggins being very experienced in the playoffs.
Free Kings at Warriors Game 4 Betting Pick
Sacramento should come out with some intense energy after getting adjusted to the Chase Center in Game 3, and it will definitely be interesting to see how chippy things get with Green back in the lineup for the Warriors. Ultimately though, Golden State is just too good at home and this looks like a series that the home team is going to win every matchup – at least up until Game 7.
Free Pick: Warriors -7.5