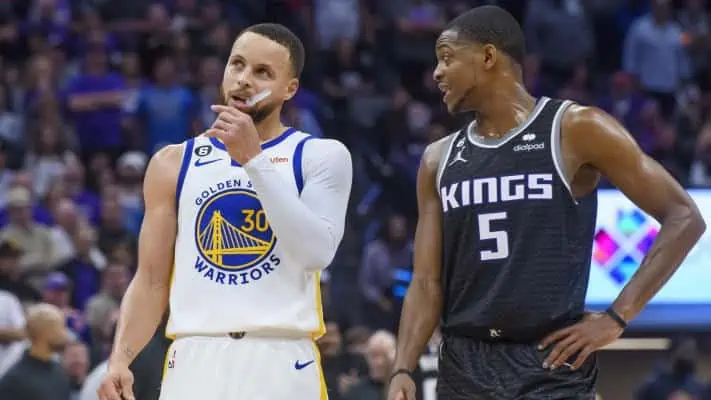 A budding Western Conference rivalry is developing heading into Wednesday's November 1st Kings at Warriors betting matchup. Sacramento gave Golden State all they could in the 1st round of the playoffs last season, ultimately falling in Game 7.
The two combatants have already met once this season, with the Warriors picking up a 122-114 road win as +3 point underdogs. Golden State has since won three straight – all on the road – and are back home as -7.5 favorites Wednesday night with 62% of the betting public giving the points.
Why the Kings Have Value at +7.5
Sacramento showed they have a future as a Western Conference contender last season, snapping a playoff drought that had been going on since 2006 and taking perennial playoff participant Golden State to 7 games before falling 120-100 in the series finale.
Golden State had won 7 straight in this series before the Kings snapped that with a 122-115 victory last November. Sacramento lost by just 8 total points in their two games on the road at the Chase Center last season and lost by a single point in Game 4 of the playoffs in the Bay in 2022/23 which would have gave the Kings a nearly insurmountable 3-1 lead.
Sacramento has put together the #1 scoring team in the NBA so far this year at 125.3 ppg. They've only played three games – but one of them was a 122-114 home loss to these Warriors. That score is obviously not great for Kings fans, but the fact that De'Aaron Fox (39 points) went toe-to-toe with Steph Curry (41) gives optimism that Fox has truly arrived – although he won't be playing on Wednesday due to a sprained ankle.
Why the Warriors Have Value at -7.5
It was a great first round playoff series last year for the participants in the November 1st Kings at Warriors matchup, but it's possible that Golden State had overlooked Sacramento considering the latter's long playoff absence and GSW aiming for a repeat of their 2022 NFA Finals win over the Celtics.
The Warriors have largely dominated this series, winning seven straight matchups between 2020/01 and last season. They look back on track with two straight victories over Sacramento.
Golden State has lost to the Suns this year in the season opener, but then traveled on the road to get three straight victories while covering the number in each. One of those three consecutive wins came at home against Sacramento where Fox was great for the Kings but Curry was even better hitting 14-19 from the field (7-10 from three). The Kings have to replace 31.3 ppg with Fox out and Curry has now hit for 40+ points in two of his last three – while Chris Paul had a solid game with 10 points and 12 assists in the first meeting with Sacramento.
Free November 1st Kings at Warriors Betting Pick
Golden State has some value considering they've already picked up a win in Sacramento this season as +3 point underdogs and are back home for the first time since the season opener. The Kings are a deep team, but we don't know what they'll look like without their heart and soul Fox.
Free Pick: Warriors -7.5