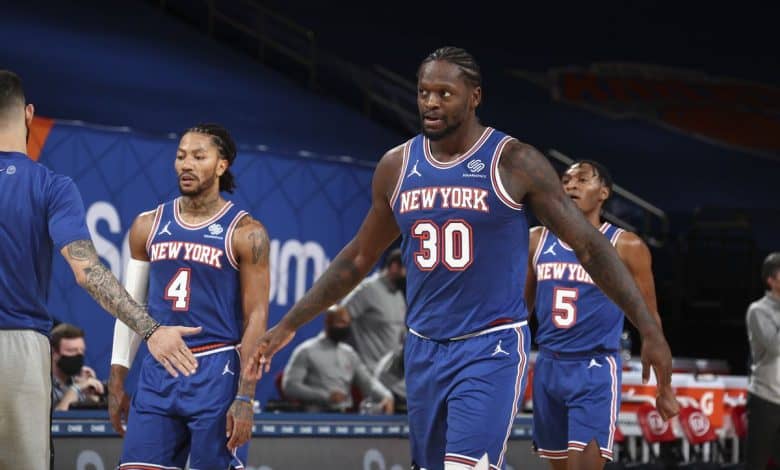 The May 5th Knicks at Nuggets matchup should be a good one, as both teams are playing well as of late. New York has won 12 of their last 13 games, that only defeat coming to Phoenix who is tied for the best record in the league.
Denver meanwhile has won 9 of their last 11 games, and are a tough foe at home with a 24-10 record at Ball Arena. The Nuggets will likely dominate in the frontcourt in this one, while the Knicks guard play is what will give them the edge on Wednesday night. Denver is a -4 point favorite, so let's buckle down and see who is the play.
Knicks Getting Things Done
It's time to take into account that the Knicks might just be for real. Tom Thibodeau has done a great job in his first year at the helm for New York, bringing that trademark defensive intensity that has the team 3rd in the NBA in efficiency at that end of the court. That's a key stat because the Nuggets were held to 89 points on Monday against the Lakers, who are 1st in defensive efficiency.
The May 5th Knicks at Nuggets contest could be a clash of the top two MVP candidates in the league. Nikola Jokic has been putting up ridiculous numbers for the Nuggets for a couple seasons now, but it's been a breakout campaign for Julius Randle. Not that Randle was every bad – he's averaged 19+ points and 8+ rebounds the last three seasons, but is putting up 24/10 this year.
Randle is getting plenty of help in the backcourt too though, as Derrick Rose has gone for 22+ in three of the last four and RJ Barrett has 21+ in three of five. New York has depth too, as Immanuel Quickley has double figures in five of the last seven off the bench, and Alec Burks made his return on Monday with a decent 9 points in 15 minutes.
Nuggets Backcourt Outmatched?
On paper it looks like Denver has one of the better backcourt defenses in the league, ranking 3rd vs. PGs and 4th vs. SGs. It's hard to expect the Nuggets to play that well right now though because they're down four guards to injury.
The Jamal Murray ACL tear was a critical blow for Denver, but the Nuggets do have good depth. That being said PJ Dozier (groin), Will Barton (hamstring), and Monte Morris (hamstring) are all out vs. the Knicks. New York meanwhile has all that backcourt depth.
Denver can still cover this number thanks to the play of Jokic in the middle and Michael Porter, Jr. at the PF spot. It's a given that Jokic is going to get his, going for 30+in three of four and against a Knicks team that has allowed 42 total rebounds against the last three starting C's they've faced. Porter, Jr. has 23+ in six of seven, but the Knicks are also a top 7 team vs. the PF spot.
Free May 5th Knicks at Nuggets Pick
This game could really go either way, and the fact that the Knicks last three road losses have come by a combined 5 points shows that they can keep things close no matter where they are playing. Coupled with the backcourt edge, the Knicks look really good here.
Knicks 116 – Nuggets 109 
Free Pick: Knicks +4