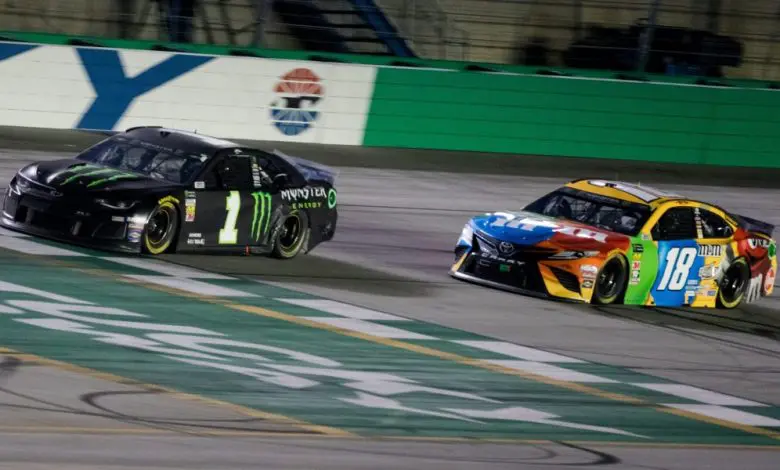 Quaker State 400 betting preview written by Betting Brain NASCAR expert Cliff "Tire Wear" Johnson. 
The Kentucky Speedway has been home to a jam packed schedule of racing that included back-to-back wins by Austin Cindric in the Xfinity Series, a fistfight, and a rain-shortened truck series event. Who knows what we have in store heading into Quaker State 400 betting.
Kevin Harvick is the +400 favorite on Sunday as he should be after finishing 1st, 2nd, and 1st the last three races. Kyle Busch is right behind him at +500. Busch doesn't have a win this season but has a 125.5 rating at Kentucky Speedway, the highest of the field. The big question is if somebody new can rise to the front of the pack as Harvick and Denny Hamlin (+550) have combined to win 5 of the last 7 NASCAR events. Here are my top picks for Sunday:
Kyle Busch +500
Stats-wise Kentucky is Kyle Busch's favorite track as he has an average finish of 4.67 in 9 races at Sparta. That includes two wins and seven top 5's while Busch has never come in worse than 12th here. What a great time for the #18 car to get his first win of the season especially while starting in the pole. Busch won this race from the #1 spot in 2011 and repeated that feat while starting 9th in 2015.
Pick: Busch to win +500
Kevin Harvick +400
Simply put, you have to include Kevin Harvick in your Quaker State 400 betting picks the way he has been roaring around the track lately. Harvick won last week at the Brickyard while starting 11th and finished 1-2 in two Pocono races the weekend before that. After a win in Atlanta Harvick did have some struggles in Martinsville (15), Miami (26), and Talladega (10) but his crew is zoned in right now. Harvick had posted six straight top 10s in Kentucky before finishing 22nd here last season but the guy is unstoppable right now.
Pick: Harvick top 3 finish +120
Chase Elliott +600
Chase Elliott will be starting 8th in Quaker State 400 betting looking for his 1st lap lead at the Kentucky Speedway in four career races. Elliott finished 3rd here in 2018 but otherwise it's been pretty bleak coming in 31st, 13th, and 15th. Aside from a top 5 at the Pocono 350, Elliott has struggled overall recently coming in 11th, 25th, and 38th. He's a good driver to fade on Sunday especially in a matchup with Joey Logano who has come in the top 10 in 6 of his last 7 at Kentucky. Logano has led laps in 10 of the last 11 cup races.
Pick: Driver head to head Logano +125 over Elliott
Kurt Busch +2000
The Busch's really love the Kentucky Speedway as
Kurt Busch
was the winner here last season.
Busch will be starting from the #7 spot today (#4 last year) looking to duplicate the race in which he led 41 laps. Busch also led 41 laps here in 2018 en route to a 6th place finish while starting 9th. Busch led 35 laps two weeks ago at the Pocono 350 but needs to get on track after finishing no higher than 13th the last three races.
Pick: Kurt Busch top 5 finish +275
Ryan Newman +12500
I like Ryan Newman to do better than oddsmakers expect him to today. Newman led 15 laps here last year en route to a 9th place finish. Newman also has two top 3's at Kentucky in his last 6 races in Sparta. He hasn't finished better than 15th in the last 5 races and has some work to do coming from the #23 start. Newman is matched up with Matt DiBenedetto on Sunday, a driver who is starting 10th but has also finished 13th or worse in 4 of the last 5 races.  DiBenedetto has finished 25th or worse in 4 of his 5 races at Kentucky.
Pick: Driver head to head Ryan Newman +130 over Matt DiBenedetto.