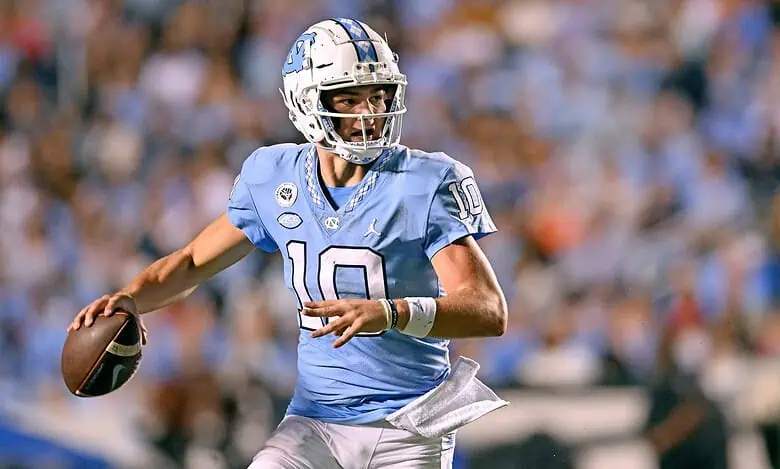 There are some big games on the schedule for Week 1 of the college football season, including a big rivalry matchup in the Duke's Mayo Classic. It will be the North Carolina Tar Heels and South Carolina Gamecocks meeting up, and this should be a battle.
North Carolina is a team that has some high expectations heading into the year as they are ranked #21 in the preseason poll. The Tar Heels did end the 2022 season by losing four straight games, and they looking to get things back on track to begin the year.
South Carolina finished the 2022 season strong as the Gamecocks were really making some noise to end the year. The Gamecocks are still a huge underdog in the SEC, but a win in Week 1 would give them some momentum.
The North Carolina Tar Heels are slim 2.5-point betting favorites in this huge rivalry game to kick off the 2023 regular season.
Maye Ready to Lead UNC
The UNC Tar Heels have seen plenty of talented players head to the NFL in recent years, but there is still plenty of talent on that roster. It all starts with quarterback Drake Maye, and he will be looking to make a big statement in the season opener.
Maye is on the short list of Heisman Trophy candidates to begin the season, and he will be taking some deep shots in this game. North Carolina will be trying to speed up the tempo in this game in an attempt to wear down South Carolina.
There are some concerns on the defensive side of the football for UNC, and that has been a focus in the offseason. If the Tar Heels can be solid on both sides of the ball then another trip to the ACC title game could be coming.
Gamecocks Must Get Stops
The South Carolina Gamecocks played in a ton of entertaining games during the 2022 season, but that was because this team couldn't get any stops. South Carolina showed that they could score with anyone in the country, but that was more out of necessity than anything.
Quarterback Spencer Rattler is feeling a bit disrespected coming into this game, as his stats are just as impressive as that of Maye. Rattler is able to get it done with his legs as well, and he will be trying to find seams in the UNC defense.
South Carolina simply can't afford to turn this game into a shootout as they just won't be able to keep up.
Tar Heels Take Control
This game should feature plenty of offense, but at some point a team is going to need to get some stops to win. South Carolina was winning games at the end of last season, but they weren't exactly getting many stops on defense.
North Carolina quarterback Drake Maye should have a monster game under center in this one, and South Carolina just won't be able to keep up. The fact that this is a rivalry game will help, but the Gamecocks just aren't ready to win a game like this yet.
Bet the North Carolina Tar Heels at -2.5 to cover the spread as that offense will continue to deliver throughout the game.