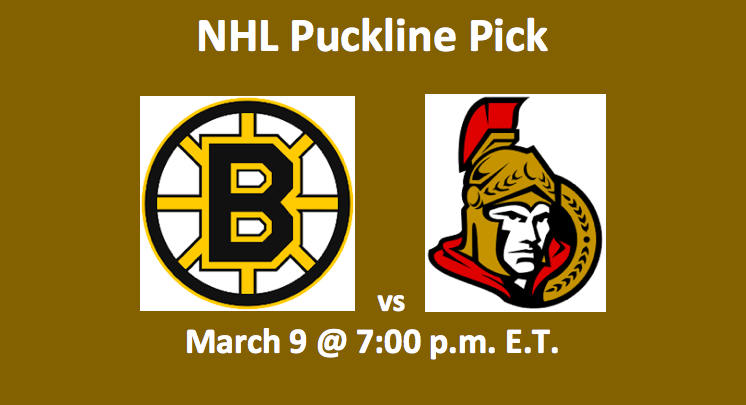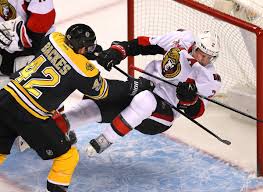 The Boston Bruins (41-17-9) will look to extend their point streak to 18 games as they host Ottawa (23-39-6) on March 9th at 7 PM ET. Boston has been on a tear since the All-Star Break. They have gone 14-0-4 since then and currently are second in the NHL. Ottawa has just nine points over the same span and recently dealt their top three scorers at the trade deadline. Our Bruins vs Senators pick looks at an interesting puckline bet where Boston is favored to cover. Here's how we see this matchup playing out as one of the hottest teams in the NHL meets one of the coldest.
Goaltending Matchup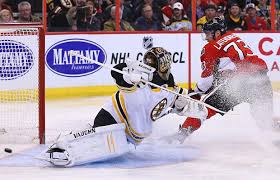 Tuukka Rask will make his second straight start. Rask has been great all year and is a big reason why Boston has allowed the second least goals in the NHL. He has a .921 save percentage and a 2.31 GAA on the season. Rask has faced the Sens three times this season and has allowed just five goals in those games combined. He has a .949 save percentage against Ottawa and draws a good matchup.
Ottawa will give Craig Anderson the start after Anders Nilsson played in the club's last game. Anderson currently has a 3.54 GAA and a .903 save percentage on the year. In his one start against the Bruins this season he allowed four goals on 32 shots. Anderson has struggled recently and has just two quality starts over his last eight games. The netminder has a difficult night ahead of him against the league's hottest team.
Bruins' Injury Woes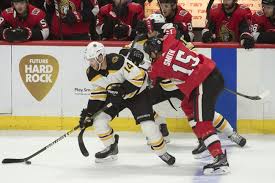 Boston has dealt with plenty of health issues all season. After a brief period with their entire lineup off the IR, injuries have started to pile up again. David Pastrnak has been out since February 13th. Trade deadline acquisition Marcus Johansson suffered a lung contusion two games ago. Now they are going to miss Jake Debrusk, who left their last game against Florida with a lower body injury. This will leave second line center David Krejci (17-41-58) without both of his normal wings for this contest. Despite this, the B's have shown that they have the depth to battle through periods of being short-staffed. It is hard to count them out based on missing players. The combination of Brad Marchand and Patrice Bergeron is always deadly and should be very effective against a porous Ottawa defense.
Even with their injuries to their second line wingers, Boston's lineup looks extraordinary compared to the Sens'. Not one player on Ottawa has scored more than 15 goals this year. Since trading their top three scorers, they have had more than two goals in a game just once. Their leading scorer, Thomas Chabot (13-35-48), has been without a point in his last seven games. The Sens' lack of scoring coupled with Boston's stinginess on defense make it look like Craig Anderson will have to stand on his head to give Ottawa any chance tonight.
Bruins vs Senators Pick
Our Bruins vs Senators pick doesn't see this being a close contest. The momentum the Bruins have right now will be hard to stop unless Anderson steals the game. This looks unlikely when considering his recent performances. Even with their injuries upfront, Boston should have little problem scoring tonight. Our Bruins vs Senators pick expects the Bruins to dominate Ottawa even at -1.5.
Bruins vs Senators Pick
Boston Bruins (-1.5) Puckline (-145)