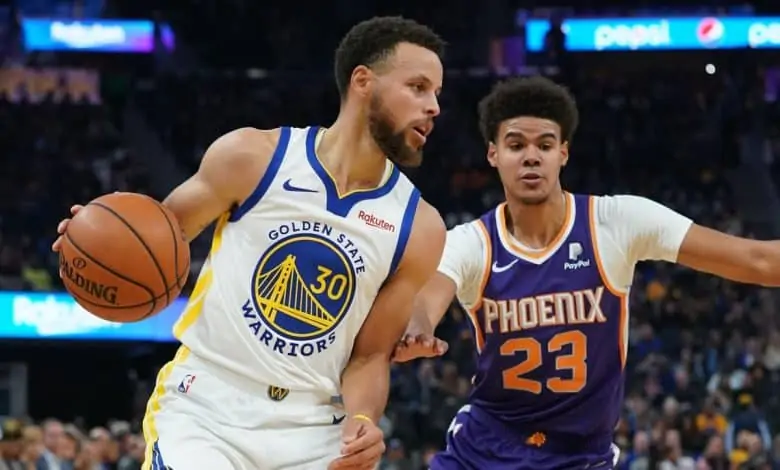 A couple of teams on the back-to-back, perhaps in name only, meet up in the January 28th Warriors at Suns pick. Phoenix found themselves in a battle on Wednesday night, blowing a 15-point 1st quarter lead en route to a 102-97 loss to Oklahoma City.
Golden State had much more relatively smooth sailing with a second straight dominant win over Minnesota. The T'Wolves are far from the top brass in the NBA, especially while shorthanded, but the Warriors have looked good in 130-108 and 123-111 wins the last two times out. The Suns are still a -1.5 favorite on Thursday, so is GSW a trap play?
Golden State Ready to Rock?
Some people would look at the Warriors beating Minnesota by double digits the last two games as an example of quality of opponent. Perhaps what it really did show though was the killer instinct that GSW might have this season, beating up on an overmatched foe and avoiding complacency.
Steve Kerr's team comes into the January 28th Warriors at Suns pick having won four of the last six, the big game sticking out over that span being a 119-104 loss at home to the Knicks on January 21st as -5 point favorites. That game was on a back to back – which Golden State will be facing on Thursday – but so is Phoenix which evens the stakes a bit.
If the Warriors were a stock, they'd definitely be trending upwards. They beat the Timberwolves on Wednesday despite just 16 points from Steph Curry – which is a good thing. James Wiseman had a career high 25 points and Kelly Oubre, Jr. posted 20 points heading into a meeting with his old team Phoenix. Plus the somewhat easy victory helped Golden State manage minutes for Thursday's tilt.
Why Like the Suns Here?
This game has trap written all over it, as Golden State should almost be favored in a nationally televised tilt that would draw a lot of action on the popular Warriors squad. Both teams are on the back-t0-back, but Phoenix is a bit shorthanded with Devin Booker out with a hamstring injury. 
Phoenix is also on a more intense back-to-back if that's a thing. Golden State has cruised to wins over the Timberwolves the last two games, whereas Phoenix battled to 3 OTs in consecutive games vs. the Nuggets last weekend and failed in fending off an OKC comeback last night.
Chris Paul also logged 34 minutes on Wednesday in trying to secure a victory over his former team, and big man Deandre Ayton had 35 which could put him at a disadvantage against the athletic Wiseman.
January 28th Warriors at Suns Pick
Golden State looked good against a bad team the last two games, Phoenix played well over the weekend against a very good team. How do you break down what's to come when the two squads meet up on Thursday?
What the Suns did look in their loss to the Thunder was flat-footed, missing a lot of key shots down the stretch in the loss. That seems like a trend that would continue on the back to back. This game is weird all around, as Golden State should be favored and the total should be higher than the 219.5 (down 6 points from open). Contrarian play on the Suns or a don't overthink this on Golden State?
Warriors 113 – Suns 116
Free Pick: Suns -1.5