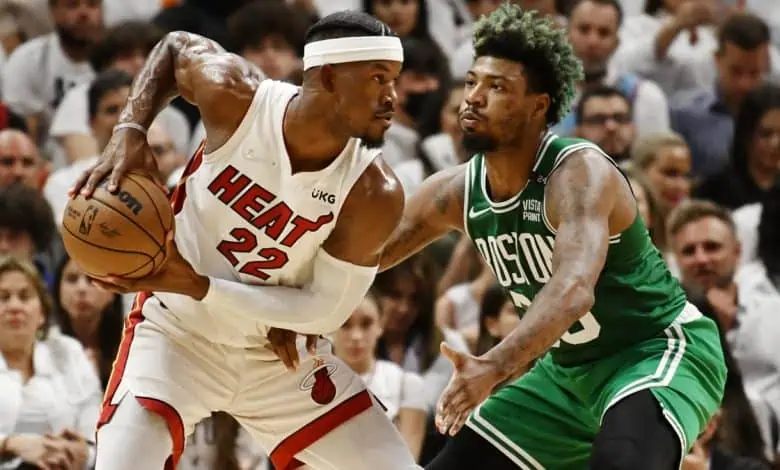 The first two games of the Eastern Conference Finals couldn't have been more different. Miami took a 1-0 series lead with a 118-107 victory in Game 1 but Boston bounced back in a huge way to take Game 2 127-102 to steal home court advantage heading back to TD Garden for the Heat at Celtics Game 3 betting matchup.
Of course the big question now becomes what do we see back in Boston? Thursday's loss was the first one at home for Miami this entire postseason, and it showed just what the Celtics were capable of at full strength after missing both Marcus Smart and Al Horford in the series opener. Boston is a -6 favorite on what should be a rowdy Saturday night in Bean Town.
Some Concern for Miami
The Heat looked dominant in Game 1 winning 118-107 as -4.5 favorites, but at the same time Boston was coming into the series opener following a grueling 7-game series with the Bucks and were down two key contributors. Once the Celtics settled into being in South Beach and got Smart/Horford back Boston looked like the much better team, winning 127-102 as +1.5 underdogs.
Now Miami has some serious concerns coming into the Heat at Celtics Game 3 betting matchup. The Heat have lost home court advantage after starting off 7-0 at FTX Arena prior to the Game 2 loss.
Jimmy Butler was his usual dominant self with 29 points on Thursday, as he's now averaging 29.8 points, 7.6 rebounds, and 5.2 assists in 12 games this postseason. The Defensive Player of the Year Smart returning though did have an impact on Miami's back court. Tyler Herro (18), Gabe Vincent (17), and Max Strus (11) were all solid in Game 1 with Smart out but they combined for just 31 points in Game 2.
Back to Square for Celtics
Game 1 on Tuesday night was a tough one for Boston, who was just coming off the always emotional Game 7 win on Sunday against Milwaukee and had to travel to South Beach for the quick turnaround. Not only that, the scratches of Smart (foot) and Horford (health and safety protocols) so it was just a lot of confusion for the C's in the opener.
The trip to Miami became a success with Thursday's win to even up the series 1-1 and give Boston home court advantage. Smart returned in a big way with 24 points and 12 assists while providing priceless emotional support and energy. Horford is the calm, veteran big man who ended up with 10 points even after finding out late that he would clear the protocols.
Boston looks good heading back home but they also dropped two games to the Bucks at TD Garden last round. As long as Jayson Tatum and Jaylen Brown continue to produce the C's have value regardless of where they play. That duo combined for 53 in the Game 1 loss and 51 in Thursday's win and that's high-end depth that Miami just doesn't have on a consistent basis.
Free Heat at Celtics Game 3 Betting Pick
Everybody saw the Celtics' game 2 domination and it would be easy to assume that they continue that dominance now back at home on a Saturday night. Boston also alternated wins and losses with the Bucks in the first round though, including dropping Game 1 at home and then Game 5 at home after they had just built momentum with a big victory in Milwaukee in Game 4.
The C's could very well get the win here, but ultimately that -6 point spread just seems a bit on the high side.
Free Pick: Heat +6