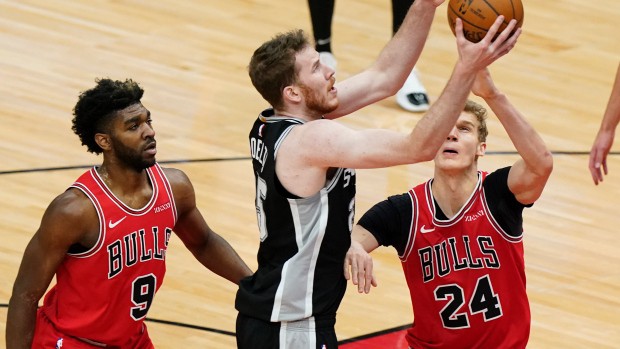 A revamped Chicago team makes its debut in the March 27th Bulls at Spurs pick. Chicago has been one of the worst teams defending the interior all season, but they've made some changes with the addition of Nikola Vucevic from Orlando at the trade deadline. Has Chicago shored up their biggest weakness and are ready to make a run?
Believe it or not the Spurs are -2 point favorites on Saturday night despite the new-look Bulls debuting. Zach LaVine is fighting through an ankle injury for Chicago, but is probable to play. It just doesn't seem like San Antonio should be giving points while on a 4-game losing streak, and posting just a 10-13 record at home on the season.
Bulls a New Team With a Post Presence?
Chicago wasn't going anywhere with their Swiss cheese interior, but in one day has turned that around. Vucevic was averaging 24 points and 11 rebounds with Orlando this season, and almost by default offers better defense than Wendell Carter, Jr., Daniel Gafford, or Luke Kornet have provided so far (all trade pieces off elsewhere).
Look no further than the Bulls last game with San Antonio to see how bad their post defense was. Jakob Poeltl look like Shaquille O'Neal with a career high 20 points and 16 rebounds in the Spurs 106-99 win on March 17th. San Antonio came back from 23 points down in that game, and used a 39-19 run in the 4th quarter to get the outright win as +1.5 underdogs.
Make no mistake, it's going to take a little time for Vucevic to get accustomed to Billy Donovan's system. Plus, the Bulls are still waiting on another trade acquisition, Daniel Theis, to join the team which may leave them a bit shorthanded on Saturday. What have the Spurs done lately to cause any worry for Bulls backers though – let alone for San Antonio to be favored.
Spurs Standing Pat
San Antonio didn't do much at the trade deadline aside from the inevitable buyout of LaMarcus Aldridge. The Spurs are going to ride with what they have in house, which so far hasn't been bad as they currently own the 8 seed in the West.
San Antonio hasn't looked well lately though, dropping two consecutive games at home to the Clippers by a combined deficit of 46 points. They've also lost 100-97 at home to Charlotte as -5 favorites as part of a current 4-game losing streak.
The bad news about the previous meeting with Chicago is that the Bulls probably won't be as horrible on the interior as they were without Vucevic. The good news is that the Spurs got the comeback win 10 days ago even without DeMar DeRozan in the lineup as he tended to a personal matter. Chicago got a new addition in Vucevic, but the Spurs have also added an important piece with DeRozan in the lineup this time.
Free March 27th Bulls at Spurs Pick
Is it contrarian play time? Chicago is the #1 public consensus pick of the night with 64% of the public liking the Bulls to dominate (or at least cover +2) after the Vucevic acquisition. Yet, the line has stayed firm. There's nothing saying to take San Antonio here, which is exactly why we have to do it:
Spurs 110 – Bulls 105
Pick: Spurs -2