Free Expert Sports Picks
NBA Saturday April 2nd Nets at Hawks Betting Preview
Does This Game Mean Anything for Either Team?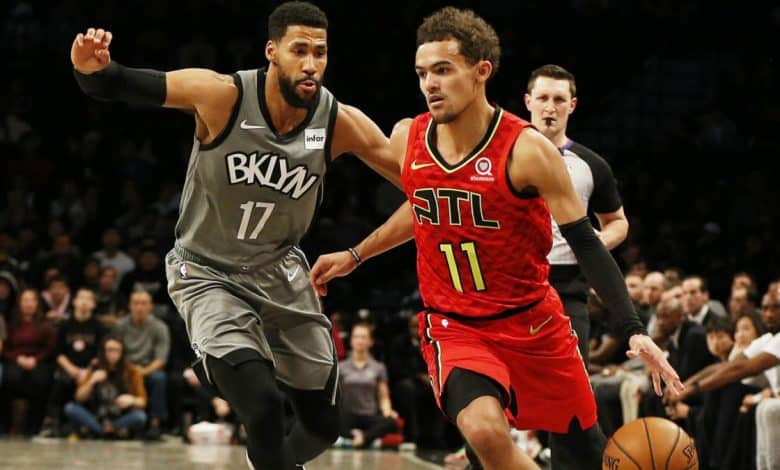 As we enter into the final days of the NBA regular season, games like the Saturday April 2nd Nets at Hawks betting matchup get harder and harder to handicap. Both Brooklyn and Atlanta have made the postseason and seem locked into the play-in tournament, so the question is how hard do they approach what looks like a meaningless game?
Both teams are 40-37, and with every other team being eliminated in the Eastern Conference Brooklyn and Atlanta are in the playoffs. The play-in tournament seems the most logical destination, but each are 5 games back from the #6 seed – but with just 5 games to play so making it to that spot is a pipe dream.
Nets Hard to Figure Out
Brooklyn comes into Saturday's game having lost three of their last five, but overall they've won 8 of their last 12. The Nets' most recent loss was a 120-119 OT defeat at home against Milwaukee on Thursday night where Giannis Antetokounmpo was just too much with 44 points and 14 rebounds. Could we see a similar points output from Trae Young in this matchup?
Kevin Durant and Kyrie Irving both had 25+ points in the loss to the Bucks, but it does kind of look like these experienced postseason players are just ready to get the playoffs started. Durant did have 41 points and 11 rebounds on Tuesday, but that was still a hard fought 130-123 win over the lowly Pistons as -14 point favorites. Irving has been held under 20 points in two of the last four.
Atlanta's Time of Year
The Hawks won 7 of their last 8 regular season games last year, momentum that propelled them to playoff series victories over the Knicks and Sixers before losing to eventual champion Milwaukee in six games. It looks like deja vu in 2021/22 with Atlanta once again heating up down the stretch, winners of four straight and 9 of their last 12.
Durant and Irving have the potential to go off on any given night as both have gone for 40+ over the last five games, but Trae Young can counter at least one of them as he has put up 40+ in 4 of his last 10 outings. Young is on the injury report (groin) but is probable, and he would love another outing like Thursday's 131-107 win over the Cavs when Kevin Huerter added 23 and six total Hawks players scored in double figures.
April 2nd Nets at Hawks Betting Info
As stated earlier, these types of late season games that are essentially meaningless can be tough to pinpoint, but oddsmakers are going ahead with the Nets as -2 point road favorites. That number makes a little bit of sense with Brooklyn having won three straight in the series including two in Atlanta, but the Hawks are also deadly this time of year and have gone 14-6 ATS in their last 20 home games. Early numbers show roughly 80% of the public backing Brooklyn.
April 2nd Nets at Hawks Betting Pick
It's hard to figure out exactly what the public absolutely loves about Brooklyn in this matchup. Part of having no love for Atlanta could be the fact that their four game win streak has come against a struggling Golden State team and then Indiana, Oklahoma City, and Cleveland. Either way, the Hawks have been pretty solid at home lately and when neither team really "needs" this one you go with the home 'dogs.
Free Pick: Hawks +2