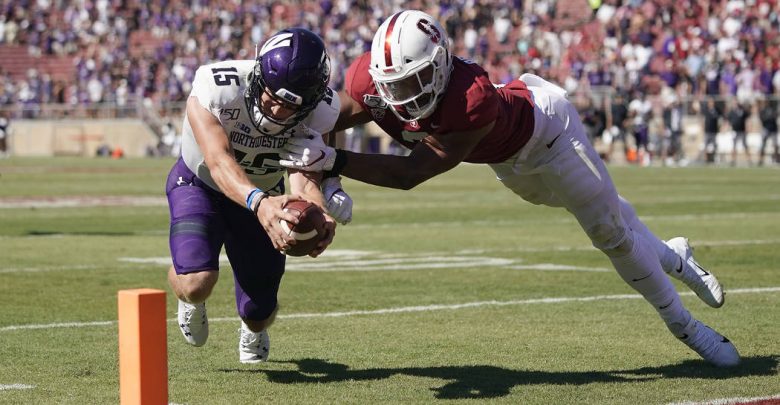 Pat Fitzgerald's team has had a couple weeks to regroup ahead of the Week 3 UNLV at Northwestern free pick. The Wildcats had a chance in their opener, but ultimately fell 7-17 in a hard fought game at Stanford. Oddsmakers have listed Northwestern as -18.5 favorites vs. the Rebels on Saturday with a total of 51.5. UNLV didn't look very good last week, but Northwestern usually doesn't play for the blowout.
Rebels Defense Could Be in Trouble Saturday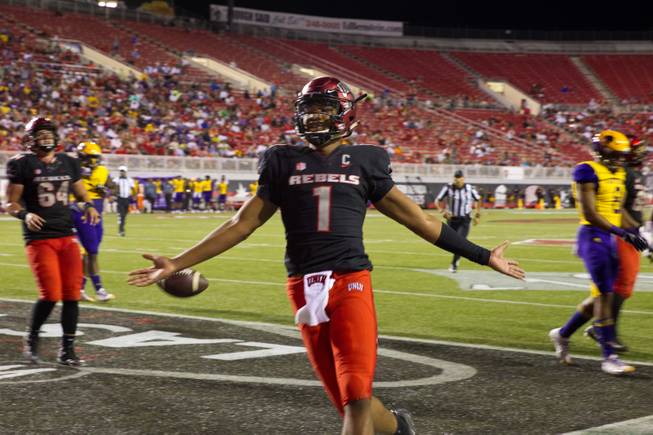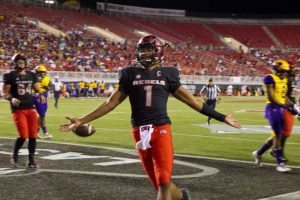 Northwestern was idle last Saturday so they've been stewing for two weeks about a defeat in a very winnable game at Stanford on August 31st. That might not bode well for a Rebels defense that lost 43-17 at home vs. Arkansas State a week ago in a PK game. UNLV gave up 498 yards of offense in that game, including allowing the Red Wolves to run for 214 yards on 43 carries.
One of the most disappointing things about UNLV's big defeat a week ago was the poor play of QB Armani Rogers. The former MWC freshman of the year was just 8/23 for 42 yards and an INT. The dual threat signal caller also had a net of 4 yards rushing on 17 carries a week after running for 114 and 2 TD's in UNLV's season opening win over Southern Utah.
Can the Rebels get it going in the week 3 UNLV at Northwestern free pick vs. a Wildcats defense that gave up just 10 points to Stanford (fumble recovery in the end zone made it 17-7 Cardinal)? Stanford was very efficient in the passing game (23-34) and did run for 132 yards albeit on 39 carries.
Northwestern Ready to Regroup and Dominate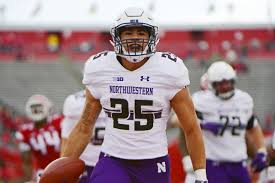 It would have been a season opening statement win if the Wildcats could have toppled Stanford on the road but the past is the past and it's time for Northwestern to move on. An idle week has Fitzgerald's team ready to roll out of the gate in their home opener and break into the win column.
There are also some positives that the Wildcats can build on ahead of the Week 3 UNLV at Northwestern free pick. That is mainly the defense which returned 6 starters from last year's 9-4 squad that went to the Big Ten Championship Game. Northwestern was 26th vs. the run and had the nation's #41 ranked scoring defense a season ago. Plus, Fitzgerald and his staff have had 2 weeks to prepare for the elusive Rogers running UNLV's offense.
One area of main concern ahead of Saturday's tilt is the QB position. Hunter Johnson will get the reins full time after running the QB-by-committee in week 1 with TJ Green. Unfortunately for Green, he suffered a foot injury vs. Stanford and will miss the rest of his Senior season. Isaiah Bowser is also out Saturday with a knee injury. The power RB had 866 yards and 6 TD over the last 8 games of 2018.
Week 3 UNLV at Northwestern Free Pick
This is a tough one to handicap because the number is so high at Northwestern -18.5. The Wildcats are definitely 10 points better than the Rebels, but Johnson was unimpressive at QB in the opener and Northwestern will feel a huge loss with bowser out of the lineup. You also can't overlook the fact that UNLV's defense was horribly bad in giving up 43 points to Arkansas State last week. Northwestern has had an extra week to prepare which should give their defense an edge. Factor in Fitzgerald trying to lighten the load on his QB and try to find a hot hand running the ball and this contest should be on the lower side of scoring.
Pick: UNLV / Northwestern *Under* 51.5