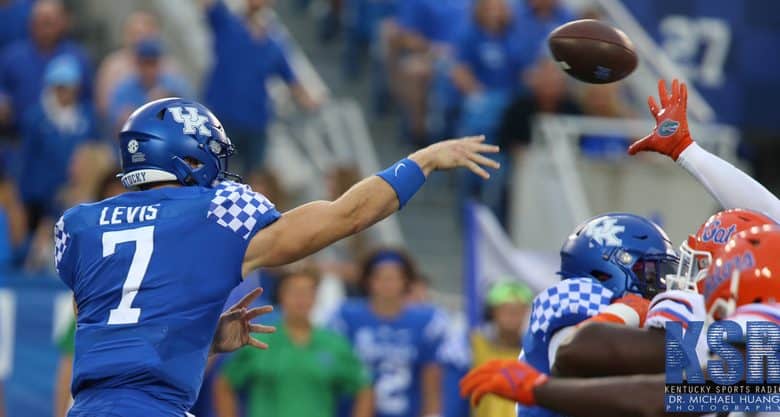 Everybody was impressed by Florida in their week one 29-26 home win over #7 Utah as +2.5 underdogs in the swamp. UF went from unranked all the way up to #12 this week, but one has to wonder how their perception would be if Utes QB Cameron Rising didn't throw an INT at the Florida 6 in the final minute costing Utah the win.
UK looked solid in their opener, beating Miami-Ohio 37-13 last Saturday to cover the -16 point spread. The Wildcats were 10-3 last season which included a 20-13 home win over the Gators as +7.5 underdogs. Oddsmakers have the home team a -5.5 favorite in the Kentucky at Florida week two matchup.
Kentucky Can Smell the Upset
The Gators seem to be the darlings of the college football world rising all the way up to #12 in the rankings, with QB Anthony Richardson already getting Heisman talk. The Wildcats have been in this situation before though, beating #10 Florida 20-13 last season to end a 16-game home losing streak against UF.
UK has some value at +5.5 in the Kentucky at Florida matchup, as they looked good in the week one win over Miami-Ohio. Obviously the quality of competition steps up from last week's opener against a MAC team, but QB Will Levis was 21/32 for 303 yards and 3 TDs while Tayvion Robinson was unguardable with 6 catches for 136 yards.
Levis threw for 2826 yards last season with 24 TDs, but he was held in check by the Gators defense going 7/17 for 87 yards with 1 TD and 1 INT. Florida gave up 230 yards rushing to Utah last week and another 216 through the air, so expect Kentucky's offense to put up better numbers in the 2022 rematch with the Gators.
Richardson Seems Like the Real Deal
Even though it was just his second career college start, Richardson showed why he's an expected first round draft pick next Spring with three TD runs last week to go along with 17/24 for 168 yards passing. That performance came against a Utah team that was 13th in total yards allowed last season making Richardson's day even more impressive.
Is Richardson just so good that Florida is an automatic play each week – or is the hype way too early? The Kentucky defense was solid in holding Miami-Ohio to 111 yards rushing on 32 attempts last week, and were very underrated in 2021 ranking 16th vs. the run, and 26th in total yards allowed per game.
Last year's meeting between these two teams was pretty even, with the Gators having a chance at the win until 4th and goal from the 8 was deflected by the Kentucky defense. The Wildcats did lose 1,300 yard receiver Wan'Dale Robinson to the NFL and will be without 1,300 Chris Rodriguez to a suspension for an OWI, so we will see the impact those absences have on Saturday night.
Free Kentucky at Florida Betting Pick
This will be a nice primetime game for Richardson to show he's a legit superstar, but Levis is a very underrated signal caller for the visitors in the Kentucky at Florida matchup. Richardson will get his, but 5.5 points is too many for the Gators to be giving in a game where it wouldn't be a total shocker if they were upset.
Free Pick: Kentucky +5.5