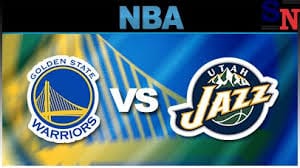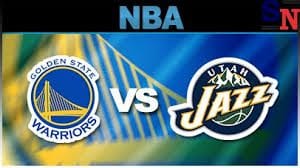 The Golden State Warriors are up on the Utah Jazz in their second round NBA playoff series two games to none. They may just finish off the Jazz tonight when the two teams meet at 8:30 tonight in Utah. The Warrior took the first two games, which were played on their home court. In the first game, Golden State won 106-94. The second ended with the score 115-104. Tonight's game offers Utah home court, which tends to be a factor. Despite being home, the Warriors are favored by six points tonight. Here our Warriors play Jazz NBA West Semifinals free pick.
Important Players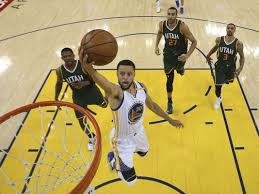 With small forward Kevin Durant back, the Warriors are especially dangerous. Sure they have Stephen Curry and his 27.3 PPG and 6.2 APG, which is great. But Durant gives them a dominant upfront presence that includes 21.0 PPG, 7.5 RPG, and 4.0 APG. Add to those stats the contributions of SG Klay Thompson (17.0 PPG) and PF Draymonf Green (15.5 PPG, 8.8 RPG) and you've got a team that's tough to beat. Plus center Zaza Pachulia is playing sound basketball.
With George Hill out, the Jazz will be without one of their best players and their second-best scorer. SF George Hayward leads the team with 23.6 PPG while center Rudy Gobert is tops in rebound with 8.7 RPG. The inside game is fairly soild but outside is weak.
Five Keys to the Game
The Jazz has to slow down the Warriors
State dominates at the foul line
Curry is an amazing leader
Jazz ball movement is weak
Hill is out for Jazz
Warriors Play Jazz NBA West Semifinals Free Pick
In the playoffs, Golden state is shooting 49% from the floor, 39% from the arc, and 81% from the charity stripe. The Jazz can, at times, keep up with them on field goals and threes, but they are converting free throws at just 73%. Our Warriors play Jazz NBA West Semifinals free pick is the Warriors at -6.0.
Warriors Play Jazz NBA West Semifinals Free Pick: Warrior at -6.0