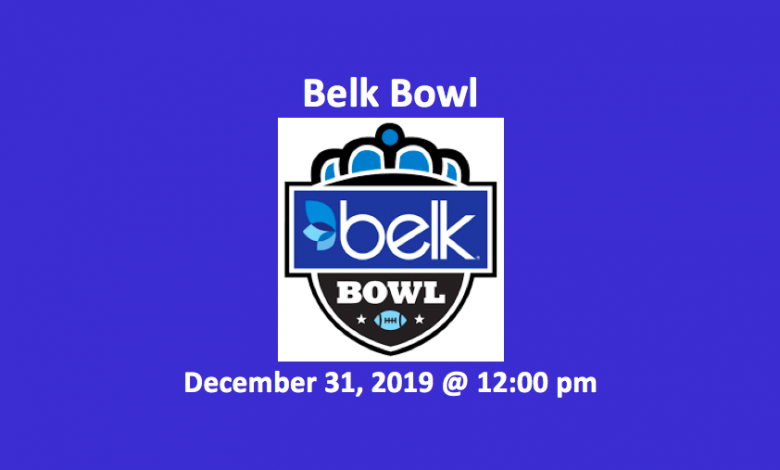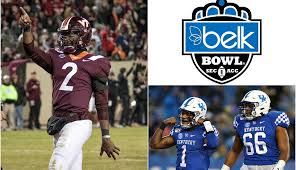 Our 2019 Belk Bowl pick offer Virginia Tech at -2.5. Also, this Belk Bowl pick prediction has an over/under of 46.5. This is the first bowl of five being played today. Also coming up is the Tony the Tiger Sun Bowl with Florida State and Arizona State at 2:00 pm ET. The Belk Bowl, which features the Virginia Tech Hokies vs. Kentucky Wildcats will be played at the Bank of America Stadium in Charlotte, North Carolina at 12:00 pm ET.
The Virginia Tech Hokies (8-4) finished second in the ACC Coastal at 5-3. The #24 Virginia Cavaliers won the division with a 6-2 record. The Kentucky Wildcats (7-5) posted a losing mark in the SEC East. Specifically, they finished fourth in the division with a 3-5 mark. The #5 Georgia Bulldogs finished first in the Coastal as they went 7-1.
2019 Belk Bowl Pick – Regular Season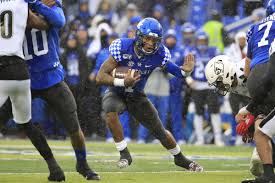 Notably, throughout the season, the Virginia Tech Hokies were up and down. First, they started with a 28-35 loss to the Boston College Eagles. After that, two wins followed, and then there was another loss. This time, the Duke Blue Devils hammered VT 45-10. Starting October 5, the Hokies went on a three-game winning streak, beating Miami, Rhode Island, and North Carolina. The UNC win, which ended 43-41, took six overtimes. A 21-20 loss to Notre Dame followed. Immediately following, VT went on another three-game winning streak by beating the #19 Wake Forest Demon Deacons 36-17. The Hokies blanked Georgia Tech 45-0 and Pittsburgh 28-0 before ending their season with a 39-30 loss to the Virginia Cavaliers.
Our 2019 Belk Bowl pick notes that the Kentucky Wildcats has a strong start to their season and a solid finish. However, weeks three through nine were spotty at best. The Cats started with two wins, beating Toledo 38-24 and Eastern Michigan 38-17. Those two victories were followed by three losses. Included was a #9 Florida win over Kentucky (29-21). Consequently, with those three losses, the Wildcats has a losing record. After that, they split the next four games. Of note, #10 Georgia beat the Wildcats 21-0. Kentucky's last loss was on November 9 to Tennessee 17-13. The Wildcats finished the season with three wins in a row. They finished the regular season with a 45-13 victory over Louisvile.
Virginia Tech Hokies vs. Kentucky Wildcats – Stats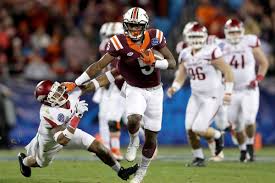 The Hokies have the better offense while the Wildcats have the better defense. VT averaged 30.8 PPG on offense and gave up 23.7 PPG on defense. On the other hand, the Kentucky offense posted on average 26.3 PPG. At the same time, their defense allowed just 18.4 PPG.
Total offensive yards per game come to 389.8 for the Hokies. Overall, Kentucky averaged 391.5 offensive YPG. VT's yards were fairly balanced, as they posted 217.3 YPG passing and 172.5 YPG rushing. On offense, Kentucky highlights its running games. As a result, they're averaging 274.4 ground YPG and just 117.1 air YPG. On defense, Virginia Tech is allowing opponents 359.9 YPG. However, they are fairly stingy with rushing yards allowed, as they come in at 123.3 PG. The Hokies are also permitting 236.6 air YPG. On the other hand, of the 321.6 total yards given up by the Kentucky D, only 172.7 YPG are in the air, while 148.9 YPG are on the ground.
Virginia Tech at Kentucky – Players
VT utilizes a mix of air and ground games. On defense, the Hokies have put up solid stats. Their D has scored three touchdowns. The Wildcats will use their ground game to score. They are limited on this side of the ball. However, Kentucky has a stout defense.
Virginia Tech Hokies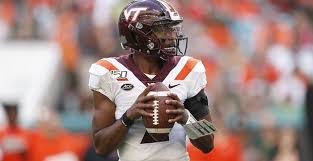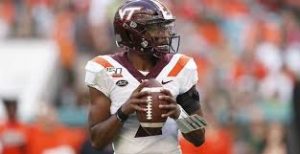 With QB Hendon Hooker at the helm, the Hokies went 7-2. In the Belk Bowl, he'll be in command. Hooker has passed for 1,445 yards, completing 61.2% of his passes. He's tossed 11 TDs and two picks while being sacked 16 times. Hooker has also rushed for five scores. His two leading receivers are Damon Hazelton and Tre Turner. Hazelton's caught 33 footballs for 542 yards and four TDs. Turner has 30 receptions for 506 yards and seven scores. RB DeShawn McClease heads the ground game. McClease is averaging 4.3 YPA and has tallied 717 yards and six touchdowns on 166 attempts.
The Wildcat defense brings some fine stats to this game. Notably, they have 13 interceptions and 37 sacks. Plus, they've defended 49 passes and forced six fumbles, recovering four with two going for scores. Also, they've posted one pick six. In terms of pass D, LB Dax Hollifield has three INTs, while DB Jermaine Waller also has three picks as well as 10 PD. LB Rayshard Ashby leads the team with 52 solo tackles and 106 total tackles. He also has 4.5 sacks and two FF. DB Chamarri Conner has 5.5 sacks, eight PD, and one pick.
Kentucky Wildcats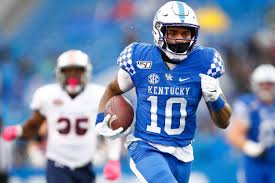 Our 2019 Belk Bowl pick observes that after two games starting QB Terry Wilson got knocked out for the season. Since then, it's been Sawyer Smith at the helm of what is primarily a rush attack. Smith's passed for 690 yards and has four TDs and five INTs with eight sacks. Overall, the primary ground gainer and scorer for the team is RB/WR Lynn Bowden Jr. Bowden tops the team in receptions with 30 catches and 348 yards. Plus, he's rushed for 1,235 yards on 151 attempts. He is averaging 8.6 YPA. Of his 12 total TDs, Bowden has 11 ground TDs and one air score.
On defense, the Cats forced 15 fumbles, recovering 10 and taking one in for a score. They also posted 32 sacks, eight picks, and 51 PD. Of the 32 quarterback bring-downs scored by Kentucky, three players are responsible for 17.5 sacks. Consequently, DE Calvin Taylor Jr. has created 7.5 sacks and three FF, LB Jamar Watson has garnered 6.5 sacks, and DL Joshua Paschal has notched 3.5 sacks and two FF. LB DeAndre Square tops the teams with 68 total tackles.
Five Keys to the Game
In developing this 2019 Belk Bowl pick, we note the following keys to this game:
For Kentucky to win they must run
VT QB Hooker is solid and knows how to win
The Cats bring a sound defense with a fine pass rush
Hokies defense can score
Virginia Tech is deeper on offense
Our 2019 Belk Bowl Pick
Our 2019 Belk Bowl pick is leaning towards the Hokies in this one. We like their balanced offense as well as the ability of their D to score. However, we do expect the Cats to score also. That is, as long as running back/receiver Bowden can perform. He's the team's primary offensive weapon. Plus, Kentucky does offer a good defense. Still, we're taking the Virginia Tech Hokies at -2.5. We feel they're deeper on both sides of the ball. We're also going the over at 46.5.
Belk Bowl Pick – Summary
Virginia Tech Hokies at -2.5 and over 46.5