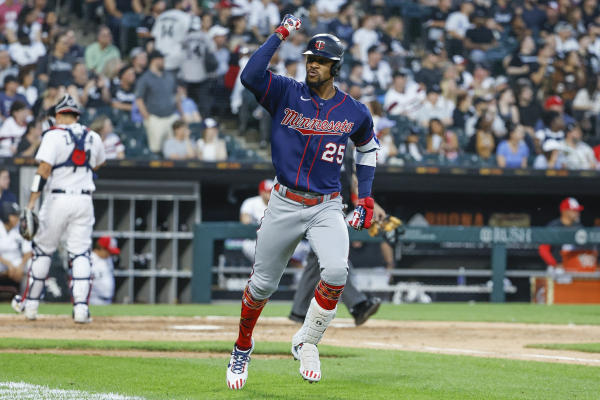 Minnesota looks to remain undefeated against the South Siders in the July 5th Twins at White Sox betting matchup. The AL Central leaders were able to survive in a 6-3 series opening win on Monday night as +127 underdogs, and picked up a sweep when the teams met up in the Twin Cities at the end of April.
In many ways Chicago shot themselves in the foot in the series opener, most notably getting caught in a triple play on a ball hit to the outfield and a failed stolen base in the 9th. The White Sox were a -138 favorite in the opener and are -126 for game two. The public is split nearly 50/50 on this one, with many finding value with the Twins at +108 as they go for their fourth win in the last five.
Too Much Buxton
Byron Buxton was definitely the MVP of the series opener, hitting a  go ahead 2-run HR in the top of the 5th and making a dramatic catch at the wall in the 7th to kickstart the first 8-5 triple play in MLB history. Chicago had two men on and no outs prior to their base running blunder.
Luis Arraez also had another big night for Minnesota, going 3-5 from the leadoff spot to push his league leading batting average to .348. Nick Gordon has also been solid with 4 hits in his last 7 ABs (.571) which has helped Minnesota build up a 3.5 game lead in the AL Central.
Chris Archer (2-3, 3.08 ERA) has served in a somewhat modified opener role for the Twins, never pitching past the 5th inning by design. The Twins were just 3-3 in his June starts although it was not Archer's fault as he had a 1.67 ERA in the month. Archer has allowed just 2 hits total in his last two starts (9.0 IP).
Sox Gave It Away
At the very least Chicago could have tagged up on the long fly ball on Monday night to get two runners into scoring position with one out. Maybe they still don't score any runs, but the absolute worst alternative was the triple play that sent the White Sox to an 0-4 record vs. the Twins this season and six straight losses dating back to 2021.
Minnesota had been struggling in the Windy City with losses in 9 of their last 11 at Guaranteed Rate Field, but have they exorcised those demons heading into the July 5th Twins at White Sox betting matchup?
One thing the Twins haven't been able to do is get to Tuesday's starter Michael Kopech (2-5, 2.78 ERA) who has a 0.75 ERA against Minnesota in six career appearances. Unlike Archer who was great in June, Kopech is hoping for better things as the calendar changes as he had a 5.19 in 6 starts last month. That's huge regression after posting 1.42 in April and 1.17 in May.
Free July 5th Twins at White Sox Betting Pick
Chicago has lost four straight Kopech starts and 9 of his last 12. He does have a 2.08 ERA at home this season though so this matchup looks like it could go either way. This should be a pitcher's duel so the total on the number of 9 is the way to go.
Free Pick: Under 9