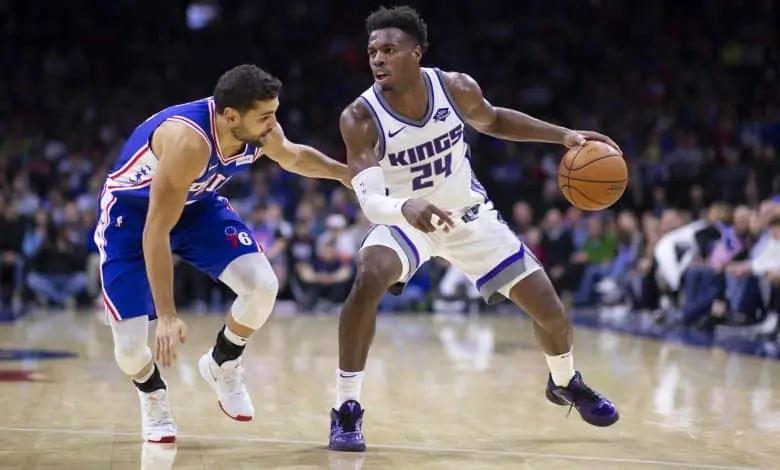 The November 22nd 76ers at Kings matchup is an interesting one considering Sacramento fired coach Luke Walton over the weekend. Alvin Gentry will take over the reins of the team, with not a ton of pressure Sacramento is the 5th worst team in the NBA in scoring defense (111.1 ppg) and rank 23rd in defensive efficiency.
The line for Monday's game has jumped from SAC -2 to SAC -3.5 with the news that Philly's Tobias Harris is questionable with a hip injury. 71% of public bettors like the Kings based on that news, and the majority aren't deterred by Gentry taking over for Sacramento considering he has over 1,110 games of experience at the helm of the Heat, Pistons, Clippers, Suns, and Pelicans.
Sixers Too Thin?
Philadelphia center Joel Embiid is eligible to come back from a positive COVID test, but with the Sixers being in the middle of a six game road trip we're likely not going to see the big man until the 76ers return home on November 27th.
Philly has gone 1-3 on their road stretch so far, and Embiid isn't the only player likely to miss the November 22nd 76ers at Kings meeting. Tobias Harris had 28 points and 8 rebounds in Saturday's 118-111 loss at Portland, but he's questionable with a hip injury. Danny Green (hamstring) has missed the last three games as well and is ruled out for Monday's tilt at the Golden 1 Center.
So who does Doc Rivers lean on in this matchup, because the Kings can very much be gotten to? Sacramento has lost three straight games by double digits, the Kings are one of the five worst teams in the league against both the PG/SG as well as the C, so this should be a big game for Tyrese Maxey (22+ points in five of six), Seth Curry (double digits in four of five) and/or Andre Drummond (12+ rebounds in 4 of 7 games filling in for Embiid).
Fresh Start for Kings
Luke Walton did not have the success with Sacramento that he did when leading Golden State to a 19-0 start in 2015. He was 31-41- in his first two seasons with the Kings and finally got let go with the team being 6-11 this season, losers of 7 of their last 8.
It would be tempting to take Sacramento on Monday night giving -3.5 points, just for the invigoration that comes with a coaching change and being at home. At the same time, we don't know what Gentry's approach will be taking over this team even though he should know them well after being an associate head coach the last two seasons.
The big question is if Gentry can help players like De'Aaron Fox realize their potential? Fox hasn't broken 20 points in four of the last five games, Buddy Hield hasn't scored more than 16 in 7 of the last 8, and leading scorer Harrison Barnes has 18 points or less in four straight.
Free November 22nd 76ers at Kings Pick
A lot of unknowns on both ends of the court in this one but coaching change or not Sacramento is not in a position to be giving 3.5 points on Monday. If Harris were playing for Philly this would be hammer time, but Drummond, Maxey, and even Curry still give the 76ers the talent edge in this one.
76ers 114 – Kings 109
Free Pick: 76ers +3.5