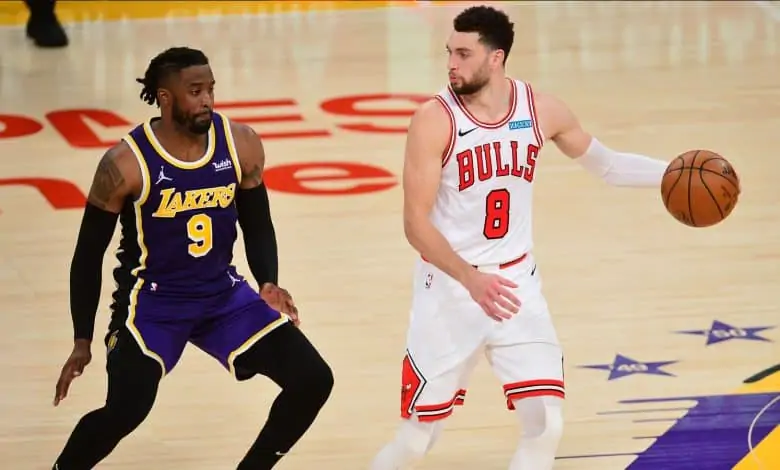 There's a lot going on in the November 15th Bulls at Lakers matchup. Both teams are on the back to back coming off wins, Lebron James remains out for L.A, and Chicago's Lonzo Ball and Alex Caruso are back in the Staples Center which used to be their home court.
Both teams are on 0 days rest, but have depth as well. Anthony Davis and Russell Westbrook both logged 34+ minutes in Sunday's 114-106 win over the Spurs as -2 point favorites. Chicago outlasted a late Clippers rally and pulled away 100-90 with Caruso, Ball, Zach LaVine, and DeMar DeRozan all playing 33+ minutes. Oddsmakers still have the Bulls as -1 point favorites in Monday night's matchup however.
Bulls Depth Takes a Hit
Sunday had the somewhat rare day-night double header at the Staples Center, with the Lakers beating the Spurs in the afternoon and then the Clippers falling to the Bulls in the nightcap. That means both Chicago and L.A are on the back to back, but both are also playing in the same arena that they did the game prior.
It's hard to know who, if anybody, gets the edge in this matchup. The Lakers continue to play without James – but the Bulls are down Nikola Vucevic for 10 days due to a positive COVID test. Chicago has some extra incentive to win since Lonzo Ball played with L.A the first two years of his career and Alex Caruso spent four years before leaving in the offseason.
DeRozan was great on Sunday night with 35 points on 12-16 shooting while LaVine had 29 while hitting 6 of 13 from three point range. There is a certain advantage to playing a second straight night in the same stadium, as it should be about as familiar as a home game. They both also logged 38 minutes though, so in addition to the Vucevic absence this team could be a bit weary down the stretch.
Lakers Inconsistencies Show Here?
Los Angeles wraps up a 5-game home stand in the November 15th Bulls at Lakers matchup before heading East for a 5-game road swing. They've gone 3-1 so far during the run at the Staples Center, with OT wins over the Hornets and Heat and a disheartening 107-83 loss to the Timberwolves in a game that Anthony Davis sat out.
Davis definitely played on Sunday against San Antonio, scoring 34 points and grabbing 15 boards. He also played 39 minutes though and the oft-injured power forward is much more needed in the playoffs than in a game in November on 0 days rest.
The Bulls do take a hit in their post play with Vucevic out, but how much will Frank Vogel run Davis after nearly 40 minutes on Sunday? That could open up an opportunity for Dwight Howard, who had 10 rebounds in 22 minutes in the loss to Minnesota, to get more court time. Of course Russell Westbrook is going to get a lot of usage too looking for his 3rd triple-double in the last five games. Chicago is a top 10 team defensively in the back court though.
November 15th Bulls at Lakers Pick
L.A did pick up some depth with the return of Talen Horton-Tucker who had 17 points playing his first game of the season following thumb surgery. There is some uncertainty about how much Davis will play on Monday for L.A, but Westbrook will be there, Rajon Rondo is back in the rotation, and Howard is always a force on the post. The Bulls need to be red hot to win this one, and spending two days in L.A doesn't always lead to the best output.
Bulls 106 – Lakers 113
Free Pick: Lakers +1