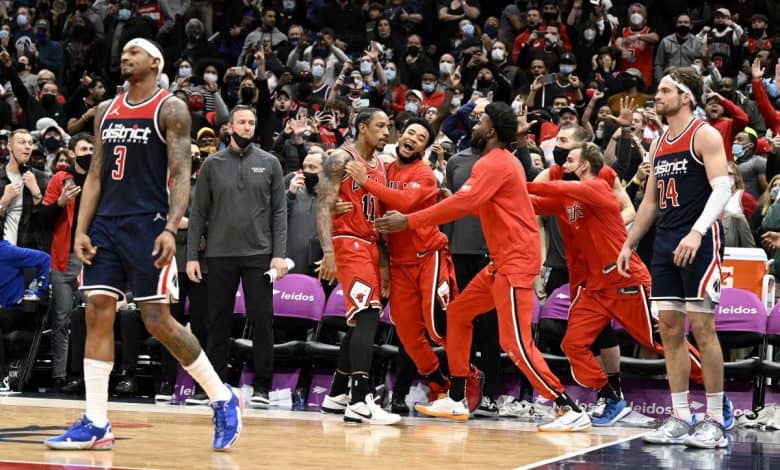 Washington and Chicago meet up for the second time in a week in the January 7th Wizards at Bulls betting preview. DeMar DeRozan delivered the dagger on New Year's Day with a buzzer beating three pointer that sent Chicago to a 120-119 win at Capital One Arena as -2 point favorites.
The Wizards may look a bit different in the rematch with the possibility that some key players return from protocols. Chicago is still a -6 point favorite in Friday night's matchup even on the road as they have had the last three nights off and also have an 8-game win streak going.
Washington Getting Reinforcements?
The Wizards were also beaten at the last minute on Wednesday night, when Houston's Kevin Porter, Jr. also hit a buzzer beater to send the Rockets to a 114-111 victory. That defeat prevented Washington from putting a winning streak together after their 124-121 win over the Hornets on Monday night.
Washington will look to avoid a losing streak as they head into the January 7th Wizards at Bulls betting matchup. Wes Unseld, Jr's team has alternated wins and losses over their last five, but should be getting Spencer Dinwiddie and Aaron Holiday back from the protocols, while Montrezl Harrell nears a return as well.
Getting some players back will make the Wizards pretty dangerous even as they sit in 9th in the East with a 19-19 record. Bradley Beal continues to be his usual dangerous self and was great on Saturday vs. the Bulls with 27 points and 17 assists. Kyle Kuzma has been a walking double-double carrying a bigger load with all the Wizards' recent absences as he has 24+ points and 9+ rebounds in four straight.
Chicago Stacking Wins
The Bulls have won 8 in a row as they hold on to the top spot in the Eastern Conference. There have been some close calls lately though, with DeMar DeRozan hitting back-to-back buzzer beaters vs. the Pacers and these Wizards, and Chicago struggling a bit more than expected in a 102-98 victory over the Magic on Monday as -13.5 favorites.
Washington played the Bulls tough on Saturday, but Chicago was also playing on the back to back after a grueling 108-106 win at the Pacers the night before. Zach LaVine scored 35 vs. the Wizards even after playing 36 minutes the night before against Indiana. Same with DeRozan, who had 26 vs. Washington after 35 minutes vs. the Pacers and even Nikola Vucevic posted a 22/12 line on Saturday after logging 34:06 Friday.
Free January 7th Wizards at Bulls Betting Pick
Chicago played pretty well vs. Washington on Saturday even playing their second road game in as many nights. Does that mean Chicago will run away with Friday's rematch back home where they are 13-4 on the season? The Bulls have gone 5-2 ATS in their last 7 home games, but Washington has also covered the number in four of their last five overall.
Ultimately Bradley Beal and Kyle Kuzma are both playing well right now (not that DeRozan and LaVine aren't). The Wizards are two buzzer beating step back three pointers away from a four game win streak, and although they may not win this matchup they can keep it to the last possession.
Bulls 114 – Wizards 112
Free Pick: Wizards +6