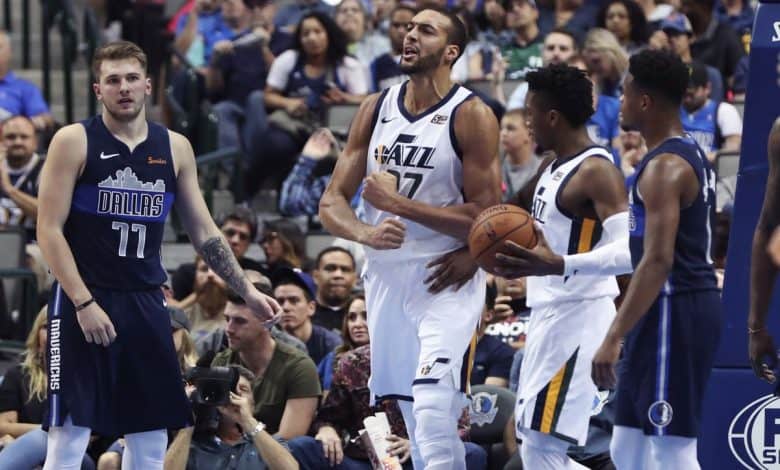 Two red hot teams are back in action in the February 25th Mavericks at Jazz betting preview. Both Dallas and Utah were 6-1 over their last 7 heading into the layoff, with the Jazz missing a chance at a 7-game win streak after letting go of a 12-point lead with just over 6 minutes left in last Wednesday's 106-101 loss at the Lakers as -4.5 favorites.
The Mavs are riding an absolutely torrid streak from Luka Doncic, who has 45+ in three of his last four and is averaging a triple-double over his last 10. That type of production gives Dallas some value getting +5.5 points on Friday night, especially since the Mavericks only lost 120-116 at Utah on Christmas night as +13.5 underdogs without Doncic.
The Doncic Run Gives Dallas Value
The Mavericks got pretty used to playing without the oft-injured Kristaps Porzingis, but some lineup stability seems to be doing Dallas well as they are 2-1 since trading Porzingis to Washington with road wins at Miami and New Orleans. Overall Dallas is 7-3 in their last 10 even though Porzingis hadn't played since the end of January, and that has helped them climb into 5th place in the West.
Dallas hasn't gotten much from the two players they received in the deal with the Wizards, with Spencer Dinwiddie averaging just 6 points in 2 games with the team and Davis Bertans only 7.5. Having a week off during the all-star break to work on team chemistry and get more comfortable with the playbook should only help that duo.
One positive thing for Dallas is that they don't need a huge outing from Dinwiddie, Bertans, or really anybody else the way their backcourt is playing. Aside from Doncic scoring 30+ in 8 of the last 10, Jalen Brunson has 20+ in 5 of the last 8. That being said Utah has been playing solid defense against guards, even holding Steph Curry tot 16 points in a recent game.
Jazz Eager to Get Back at It
Utah has had to stew over a blown lead in a loss to the Lakers 8 days ago, but now they'll be back in action following the all-star break with winners of 7 of their last 8. Quin Snyder's squad has been without Donovan Mitchell (concussion) and Rudy Gobert (calf) for extended stretches lately, but are fairly healthy heading into the February 25th Mavericks at Jazz betting matchup.
Mitchell made the all-star game, but did not play due to illness. He's supposedly able to be in the lineup on Friday night though, coming off a 37 point outing vs the Lakers right before all-star weekend. Mitchell has gone for 30+ in three of the last five, the type of scoring that Utah will need to counter Doncic.
Gobert looks like the real x-factor in this contest, averaging just 9.5 points and 9 rebounds since returning from a three week absence with his calf injury. Gobert should dominate on the interior though, with the Mavs allowing 10+ rebounds to four of the last five starting C's, including 18 to Jonas Valanciunas and 15 to Isaiah Stewart.
Free February 25th Mavericks at Jazz Betting Preview
Utah is giving -5.5 points on Friday night, a number that seems a bit high with the run that Doncic is on lately. 69% of the public agree and are taking the points, but its hard to overlook how big of an advantage Utah will have on the interior with Gobert.
Utah 111 – Dallas 104
Free Pick: Utah -5.5