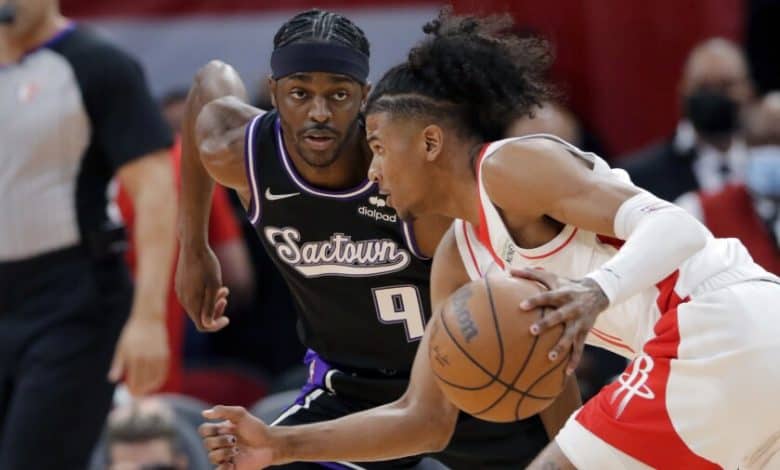 Two teams with their eyes on next season meet up in the April 1st Kings at Rockets betting matchup. These squads should be very familiar with each other, meeting up on Wednesday in a game Sacramento won 121-118 despite 32 points from Jalen Green and a 30/12/12 line put up by Houston PG Kevin Porter, Jr.
Should we expect a similar result in Friday's rematch – also at the Toyota Center? Sacramento has won three of their last four to close out the regular season on a high note despite being 28-49 on the year. Houston has also won three of their last six, as both teams seem to be playing their best when it matters the least.
Sacramento Can Exploit the Interior
One of the major reasons the Kings were able to prevail in Wednesday night's matchup is because Houston's post defense is essentially nonexistent right now. Sacramento center Damian Jones had his best game of the season with 24 points and 9 rebounds while Trey Lyles added 24 and 7. Houston has now allowed 16, 13, and 9 rebounds to starting centers over the past three games.
Even though the Sacramento post players had a good game on Wednesday, the driving force behind their success was Davion Mitchell who dropped 24 points while dishing out 8 dimes. Mitchell has been a force in the absence of De'Aaron Fox (hand) and Domantas Sabonis (knee) going for 21+ points with 7+ assists in five straight.
What More Can Houston's Back Court Do?
The Rockets appear to have locked in their back court of the future, but the fact that 62 points from Porter, Jr. and Green wasn't enough to get a win tells you Houston brass still has some work to do in the offseason. Then again, the Rockets are more focused on developing these young guards and if they can do that while also securing one of the worst records in the NBA and thus a better chance at the #1 pick then that is win-win.
The Rockets shouldn't be upset about losing this time of year not just because of draft status, but also because they've shut down most of their team to hand things over to the youngsters. Christian Wood (hamstring), Eric Gordon (groin), and Dennis Schroder (shoulder) are officially done for the year while Alpereen Sengun (leg) is questionable leaving another big void in the paint.
April 1st Kings at Rockets Betting Info
The Kings are a -2.5 favorite in Friday night's contest and a slight 52% of the public like Sacramento to repeat their 121-118 victory in Wednesday night's contest at the Toyota Center. The teams split the two games in Sacramento, and now Houston will look to return the favor back on their own court.
April 1st Kings at Rockets Betting Pick
Green and Porter were great on Wednesday for Houston and it still wasn't enough to pick up the victory. That's mostly because their post defense is so vulnerable right now. That being said in situations like this where you usually expect a repeat of the previous game, the opposite usually happens. That bodes well for the Rockets.
Free Pick: Rockets +2.5