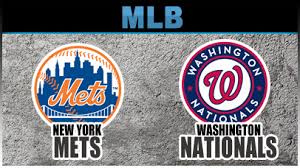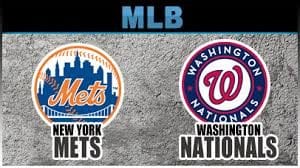 The Washington Nationals (12-5) are at the New York Mets (8-10) for a Sunday night game that starts at 8:00 p.m. The two NL East foes are experiencing very different seasons thus far. The Nationals have won six straight and are 8-2 for their last 10. They are on top of the dvision and 4.5 games up on the Metropolitans. New York has gone 3-7 over their last ten and has lost three straight. They are 4-7 at home, while the Nats are 6-2 away. The Mets have a RS/RA differential of zero while Washington's is at +14. Our Nationals play Mets 2017 MLB free pick has Washington at -150, New York at +138 and the totals at 7.0 runs.
Pitching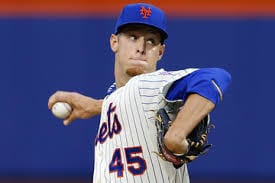 Matt Scherzer (2-1, 3.17 ERA) starts for the Nationals. He's had a fine start and in his last outing against the Braves he allowed just two hits and no runs over seven innings. He's a tough strikeout pitcher capable of fanning 15 or more. The Nationals won that game against the Braves 3-1. In the season, he's averaged 6.2 IPG.
Zack Wheeler (1-1, 5.52 ERA) starts for the Mets. In his last start, he lasted five innings allowing one run on four hits. That run was off a homer. In that game, he got no decision. Overall, he pitched decently striking out seven and walking two. Over three starts this season, he has not made it to the sixth inning. He's averaging 5.0 IPG.
Hitting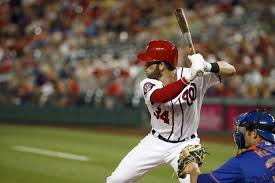 With four guys hitting over .330, including Bryce Harper (.393), Ryan Zimmerman (.373) and Daniel Murphy (.329), this is a team that can manufacture runs. Harper has seven homers and 20 RBI, while the trio has collected 19 doubles. Harper has also drawn 17 BB.
For the Mets, Asdrubal Cabrera at .282 is tops in batting average. Jay Bruce and Yoenis Cespedes share the team lead for homers with six each. Bruce's 14 RBI are the most on the team, while Cabrera and Cespedes each have 10. Cespedes has also received 10 passes.
Nationals Play Mets 2017 MLB Free Pick
The Mets have lost seven of eight and in those games scored a total of just 23 runs. New York is woefully deficient in hitting so far this season. NY has a team batting average of .211. Washington, on the other hand, has been hitting just fine. Their batting average is a hefty .272. Plus, Nationals pitchers have performed well.
Scherzer is a major plus today although we do think that Wheeler will have a decent start. He looked pretty good the last time he pitched. We like the Nats to sweep the Mets in this series. Our Nationals play Mets 2017 MLB free pick is Washington at -150 and under 7.0 runs.
Nationals Play Mets 2017 MLB Free Pick: Washington at -150 and under 7.0 runs.