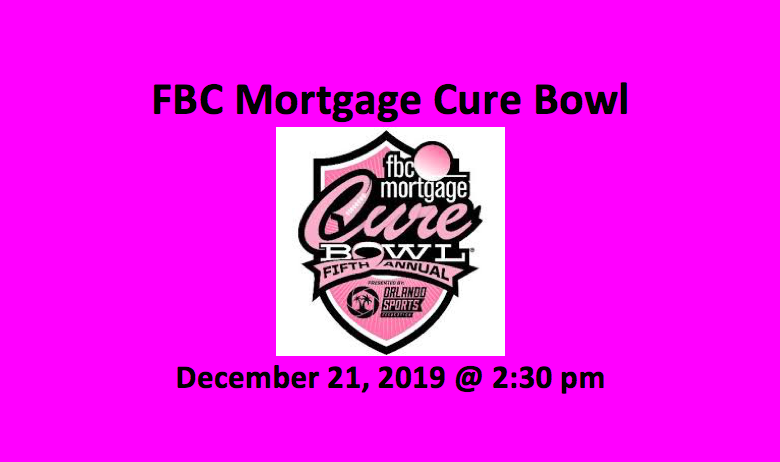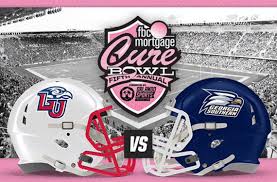 The 2019 Cure Bowl pick has Independent Liberty playing the Sun Belt's Georgia Southern. This Cure Bowl pick offers GSU at -5.0. The totals are listed at 58.0. This contest will be played on December 21, 2019 at 2:30 pm ET at Exploria Stadium in Orlando, Florida. It is the third bowl game of a day that includes six FBS games and one FCS bowl.
In our 2019 Cure Bowl pick, the Liberty Flames (7-5) come to this game after going 2-3 over their last five games. Liberty finished the season tied with BYU for second amongst Independents. At 10-2, Notre Dame ended up at the top of the Indies. The Georgia Southern Eagles (7-5) were second in the Sun Belt East. With a 5-3 conference mark, the Eagles finished two games behind the #20 Appalachian State Mountaineers.
2019 Cure Bowl Pick – Regular Season
The Liberty Flames lost their first two games of the season before running off a string of five wins. Their first win was 35-15 against the Buffalo Bulls. They also beat New Mexico and New Mexico State. The Flames went 2-3 for their last five games. Those losses were to Rutgers, BYU, and Virginia. Liberty finished the season with their second win of the season against New Mexico State. That game ended 49-28.
For their first game of this season, the Georgia Southern Eagles played #6 LSU. The Tigers hammered the Eagles 55-3. The Eagles then lost their next two-of-three. What followed were two OT wins, 20-17 against South Alabama and 30-27 versus Coastal Carolina. The South Alabama victory was in double overtime and Coastal Carolina was in triple. Our 2019 Cure Bowl pick notes that those two victories were followed by two more, including a 24-21 beating of #20 Appalachian State. In the last four games of the season, the Eagles were two-and-two. In their final contest, Georgia Southern beat Georgia State 38-10.
Liberty Flames vs. Georgia Southern Eagles – Stats
Both teams can score and neither club offers much of a defense. The Flames are averaging 33.7 PPG while the Eagles have been good for 29.2 PPG. The Liberty defense is allowing 29.1 PPG. Georgia Southern's D is giving up 28.6 PPG. The Flame offense is generating 442.5 YPG. Their defense is allowing opponents 422.5 YPG. Comparatively, Georgia Southern is producing 333.7 YPG and giving up 377.3 YPG.
The Liberty offense is good for 290.5 YPG in the air and 152.0 YPG on the ground. The Flames have a tough time stopping the run, as they're giving up 192.7 YPG in rushing. Passing yards allowed are 229.8. Georgia Southern relies on the run. Their offense has been averaging 260.9 ground yards per game and just 72.8 air yards. The Eagles are allowing 136.7 YPG in rushing and 240.6 YPG in passing.
Liberty at Georgia Southern – Players
We expect this to be a high-scoring contest, as both teams can put points on the board, and neither possess top-notch defenses. The Flames will mix it up with the pass and rush, while the Eagles will be primarily ground-based. The Liberty defense could score.
Liberty Flames
The Flames pass attack is in the hands of QB Stephen Calvert. Calvert has thrown 26 TD passes and five picks. He's got a completion rate of 58.8%. The Flames QB is vulnerable to the sack. Opponents have brought him down 24 times. WR Antonio Gandy-Golden leads the club with 74 receptions, 1,333 receiving yards, and nine touchdown catches. For the Flames, two running backs dominate the turf. Frankie Hickson comes to this contest with 921 yards on 165 carries. He's scored 12 times while averaging 5.6 YPA. Joshua Mack, who's averaging 6.1 YPA, has 749 yards and a half-dozen TDs on 122 carries.
Our 2019 Cure Bowl pick notes that the Flames defense comes to this contest with 32 sacks, 11 interceptions, and 10 FF with six recovered. The team's passes defended come to 33. They have one pick six. Top tacklers include LB Solomon Ajayi (89), safety Elijah Benton (79), and DL Jessie Lemonier (72). Benton defended seven passes and grabbed one pick. Lemonier has posted 8.5 sacks.
Georgia Southern Eagles
This season, QB Shai Werts, a dual threat, passed for 704 yards and rushed for 676 yards. Werts has completed 52.8% of his passes for nine TDs. On the ground, he's averaging 4.5 YPA and has crossed the goal line five times. Wert has not tossed a pick and has been sacked 23 times. RBs J.D. King and Wesley Kennedy III have rushed for 776 and 760 yards respectively. King, who's averaging 4.4 YPA, has eight TDs. Kennedy has scored 10 times and is averaging 6.9 YPA. WRs Mark Michaud and Malik Murray have four and three TD catches respectively.
On defense, the Eagles have 24 sacks, seven INTs, and 50 PD. They've forced seven fumbles and recovered seven. Three defenders come to this contest with over 70 tackles each. They are LB Rashad Byrd (79), LB Reynard Ellis (77), and safety Kenderick Duncan Jr. (71). Byrd's made two sacks, grabbed two picks, and forced two fumbles. Duncan has two INTs and seven PD. LB Randy Wage Jr. has posted four sacks, four PD, and two FF.
.
Five Keys to the Game
In developing this 2019 Cure Bowl pick, we note the following keys to the game:
Liberty LBs provide pressure and control
Georgia Southern rush attack central to their success
QBs need to play mistake-free
Both teams are deep at running back
If Liberty stops Eagles rush, they win
Our 2019 Cure Bowl Pick
We find that the Liberty Flames are in a good position to win this game. The offer a balanced attack. Plus, the Liberty defense, in terms of depth, is a bit better situated than that of the Eagles. Our 2019 Cure Bowl pick is Liberty at -6.5 and our totals pick is the over at 52.0.
For more great college football picks, see our Celebration Bowl preview and New Mexico Bowl analysis. Here's our college football bowl link-page, connecting you with our prediction regarding every point spread and over/under for each bowl contest.
FBC Mortgage Cure Bowl Pick – Summary
Liberty Flames at +5.0 and over 52.0