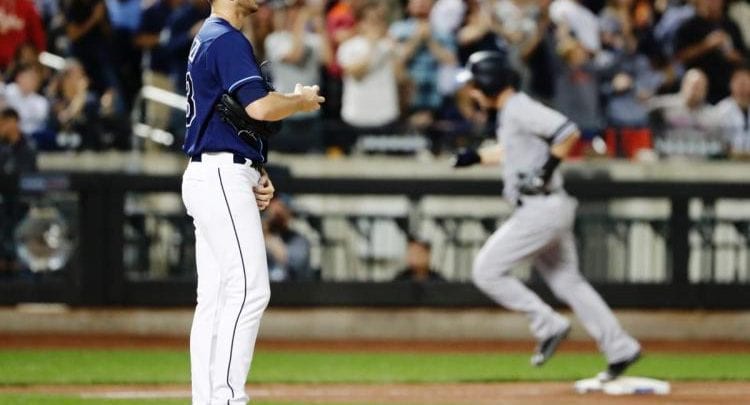 The Yankees were able to pick up half a game on Boston on Monday night, capturing a 5-1 series opening win over the Rays at the Trop. It was New York's third win in a row and has them staring down the barrel at a 3 game deficit behind the Red Sox in the East. The run has also set up the Yankees comfortably for at least a berth in the postseason as they lead the Wild Card race by 4 games – you know they want that AL East crown from their rivals though and the 9/12 Free MLB Pick will have them trying to take another one from the Rays.
Tampa's hopes for the postseason are all but a pipe dream now and would require historic, catastrophic meltdowns from 6 teams ahead of them in the Wild Card race. Tampa Bay is starting to play like they're ready for the offseason as well losing 4 out of their last 5. Returning home from a weekend in Boston and having to deal with the effects of Hurricane Irma on their homes could mean that baseball is one of the last things on the minds of Rays players.
We are all thinking about everyone back home in FL. Hopefully as the storm clears and we assess the damage it is all manageable. ????????????

— Evan Longoria (@Evan3Longoria) September 11, 2017
9/12 Free MLB Pick Pitching Matchup
>
The Yankees trot out Sonny Gray (9-9) in an effort to keep their momentum rolling. The pitcher has shown signs of finally 'getting right' for the postseason in his last few outings. Aside from allowing 4ER in 7IP to Boston on September 5th, Gray has allowed 2ER or fewer in 4 of his last 5 starts. Even so, the right-hander is just 3-4 since coming over to New York from Oakland at the end of July.
Gray has had success against the Rays while pitching with the A's this season. On July 19th he allowed just 2ER on 7H over 7.0 IP and prior to that he struck out 10 while allowing just 2 earned runs on June 10th. Rays batters have seen Gray a lot, tallying 157 career plate appearances. They are hitting a modest .245 but that is mostly skewed by the success of Evan Longoria (10-26, .385).
Hopefully Gray won't be distracted by his new foray into Clash of Clans
Just made a clan. Whoever wants to join come on! pic.twitter.com/wFhp0HB2FI

— Sonny Gray (@SonnyGray2) September 11, 2017
Blake Snell (3-6) is faced with the task of holding the Yankees offense at bay. The left-hander also looks to get back on track on a personal level after being knocked out of his last start in the 4th inning (6ER on 7H). Prior to that he had went into the 7th inning in 3 straight starts and allowed only 3ER total over that span.
Snell has allowed 5ER in 10IP against the Yankees this year, both Tampa Bay losses.
9/12 Free MLB Pick Betting Matchup
Oddsmakers have set the Yankees as -145 favorites and +110 on the RL. The total is set at 8 and with both pitchers throwing relatively well lately the under is not a bad play. For the 9/12 Free MLB Pick we're going to take into account the circumstances behind Tampa dealing with Hurricane Irma and the fact that the Yankees are on a roll winning 3 straight. We'll back Sonny Gray in this one.
Pick New York Yankees -145