The Nashville Predators will try to steal a game from the Pittsburgh Penguins when they visit them for the second game of the 2017 Stanley Cups Finals. The first meeting, which occurred on Monday night, saw the Predators dominate much of the game. Our Nashville plays Penguins NHL Finals game two pick has the Penguins at listed at -141 and the Predators at +130.
Overall, Nashville played well, but there was a four-minute span in the first stanza where Predator mistakes and Pittsburgh cunning led to three goals. Those three scores meant that the visitors went into the locker room after the first period down 3-0. After the second, they were down 3-1. Despite a comeback that saw the Predators tie the game 3-3 in the third, the Penguins pulled out a win, as with 3:17 left in regulation Jake Guentzel launched a shot past Nashville goalie Pekka Rinne to take back the lead for good. The final score was 5-3 Penguins.
Tonight's Game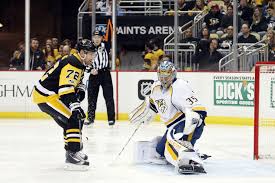 Nashville and Rinne will try to control Pittsburgh, as they did in game one, and, at the same time, not offer up any golden opportunities to the Penguins. Pittsburgh has too many top players on it who can take advantage of any miscue. Rinne did not have a good game. He allowed four goals on 11 shots. He's had a tough time against Pittsburgh, going 1-5-2 with just an .880 save percentage and 3.57 goals against average. Win or lose, he has to step up tonight.
Pittsburgh goalie Matt Murray saves 23 of 26 shots. He had the better game than Rinne certainly and I expect more if the same from him tonight. Pittsburgh got shutdown by the Predators for more than half of the game and their defense gave Nashville too many chances. They have to be more consistent on both ends of the ice. When oush comes to shove, the Pittsburgh Penguins really want to go to Nashville up by two games. The Predators have just lost one 2017 playoff on their home ice. They are exceptionally tough to beat at home.
Nashville Plays Pittsburgh: Keys to the Game

Rinne needs a big performance
Pittsburgh cannot let down in any way
Nashville needs to stay focused
Predator D has to come out and hit
Crosby and company need four goals
Nashville Plays Penguins NHL Finals Game Two Pick
Nashville's P.K. Subban, a defenseman, is one of those in-your-face-players that opposing fans love to hate. He's going to try to generate something on the ice tonight. For the Penguins, it's RW Phil Kessel who fills that role. Expect fireworks on the ice tonight.
Our Nashville plays Penguins NHL Finals game two pick is the Predators at +130. They'd love to steal one here and go back to Nashville, where they've been tough to beat, all tied up.
Nashville Plays Penguins NHL Finals Game Two Pick: Nashville Predators at +130
\