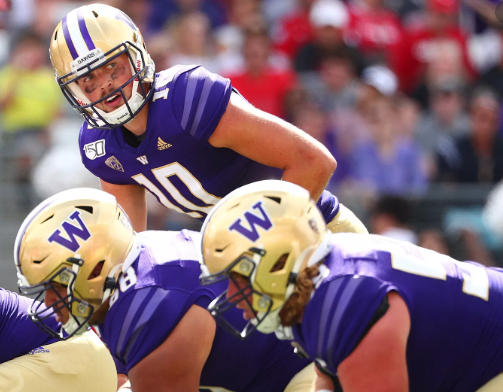 The NCAA week 5 USC at Washington free pick takes on a little bit of a new look after the Trojans impressive win over #19 Utah last week. The Huskies likely aren't impressed however as they've rolled out to a 3-1 start and their own dominating 45-19 victory at BYU in week four. USC's win over the Utes was in LA though, and today Clay Helton takes his team on the road as 10 point underdogs. Is that too many points?
USC Continues Their QB Rotunda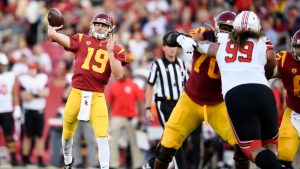 What was most impressive about SC's 30-23 win over a tough Utah team last week is that the Trojans secured the victory despite losing starting QB Kedon Slovis after just 2 passes with a concussion. "Career backup" Matt Fink came in and dazzled going 21/30 for 351 yards and 3 TD. Fink had thrown just 18 passes in the two years prior. Fink now has to go on the road in the NCAA week 5 USC at Washington free pick against a Huskies team that finally has some film on him.
It's been a good start to the year for the Trojans but Saturday is very much a make or break game for the team. SC has looked good in home wins over Fresno, Stanford, and Utah, but lost their only road game of the season thus far 27-30 in OT at BYU. That's the same BYU team that Washington traveled to thump 45-19 a week ago. Plus even though USC is coming in off a win vs. Utah, it's a game in which they ran the ball 22 times for just 13 yards. The Huskies had the #18 pass defense in the year last season.
Huskies Rolling Since Cal Loss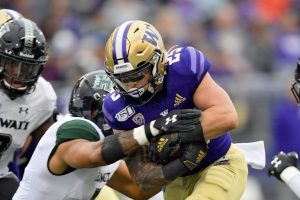 It's hard to overlook Washington at home in this one despite being double digit favorites. The lone blemish on the Huskies slate is a 19-20 loss to Cal at home with a line of WAS -13.5. The good thing for the Huskies heading into the NCAA week 5 USC at Washington free pick is that the loss seems to have been a wake-up call for Chris Peterson's team. The Huskies have bounced Hawaii 52-20 and BYU 45-19 the last two weeks.
The biggest key to Washington's success has been QB Jacob Eason. Since going 18/30 for 162 vs. CAL the Junior is 42/53 with 6 TD and 1 INT. Eason has been great through the air, but he'd still love to have Salvon Ahmed back in the backfield. Ahmed missed the BYU game after gaining 83 yards on 8 carries against Hawaii. Despite losing last week, Utah outgained USC 457 to 381 including 49 carries for 247 on the ground. Washington may have a capable backup at RB though as the last two games Sean McGrew has 8 carries for 63 yards and 18 for 100 last week.
NCAA Week 5 USC at Washington Free Pick
Fink was great last week vs. Utah, but he was largely playing on instinct. Fink may have some anxiety going on the road for the first time as a starter, especially in a place as tough to play as Husky Stadium. The Washington offense is clicking and seems destined for the top 10. Double digits is a lot in conference play, but Washington looks really good right now.
Free Pick: Washington Huskies -10