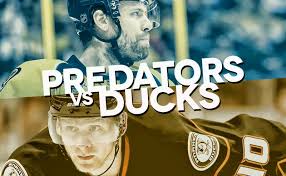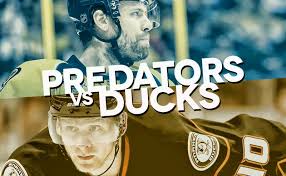 The Stanley Cup Western Conference Finals go back to Anaheim for game five tonight. The series is tied, as the Anaheim Ducks, down two games to one in Nashville, took game four to even up the series. Nashville is a team that has surprised many in the playoffs, while the Ducks have struggled a bit more than many expected. Game five is crucial to both teams. But it may be most crucial for the Ducks, as a Predator win will put Nashville one game away from taking the conference title and headed home for game six where they have gone 6-1 in the playoffs. Here is our Nashville plays Anaheim NHL conference finals game five pick with the Ducks at -126 and Predators at +120. The over/under is 5.0 goals with the over at -125 and under at +113. Game time is 7:15 p.m. E.T.
Nashville Predators and Anaheim Ducks Series Thus Far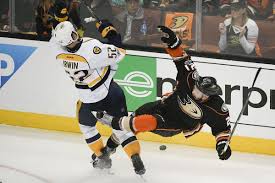 Three of four games in this series have been decided by one goal, two have gone into OT with the away team winning, and two of the four have totals of five goals, making the over/under bet a push. Of the two other games, one was under and the other over.
Nashville took the first in OT 3-2 on Anaheim's home ice. The next game, also played on the Ducks' home ice, saw Anaheim come back in a strong manner, winning 5-3. Game three was played in Nashville. The Predators took that game 2-1, winning their sixth-straight home playoff game of 2017. They tried to make it seven in a row at home, but the Ducks spoiled that dream as they took game four in OT 3-2.
Nashville at Anaheim Game 5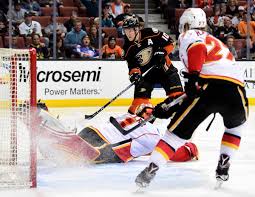 There are a few things to note regarding this game. Center Ryan Johansen is out for the rest of the playoffs with a left thigh injury. In 14 games, he had 13 points (three goals, 10 assists) and recorded a team-best 54.3 percent faceoff win percentage. Also, it's unknown if captain Mike Fisher will play.
With the Predators down at center, they will have a tough time matching up with Duck centers Ryan Getzlaf, Ryan Kesler, Antoine Vermette and Nate Thompson. If the Ducks can dominate at center that will open up more scoring possibilities.
Nashville does have Pekka Rinne in goal. He's 10-4 with a 1.66 GAA and a .940 SV%. John Gibson is in goal for the Ducks. He's 9-5 with a 2.66 GAA and .917 SV%. If goaltending wins playoffs series, then the Predators should win this one.
Nashville Plays Anaheim NHL Conference Finals Game Five Pick
Our Nashville plays Anaheim NHL conference finals game five pick is the Predators at +120. We think that goaltending will prevail.
Nashville Plays Anaheim NHL Conference Finals Game Five Pick: Nashville at +120