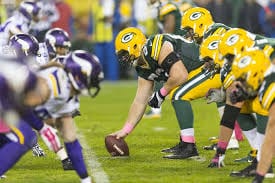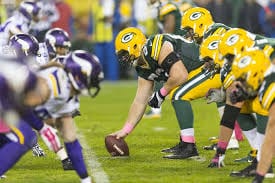 We've got quite a game with our Minnesota Vikings play Green Bay Packers free pick. Both teams have battled injuries with the Packers finding ways to win and the Vikings unsuccessfully struggling to get find a way to run off a string of wins. Green Bay could set themselves up for the playoffs with a win today, while Minnesota could be completely knocked out of the postseason race.
The Minnesota Vikings (7-7) are third in the NFC North. The Vikings are 3-2 for their last five. After beating Arizona on Nov 20, they lost to Detroit 16-13 and Dallas 17-15. They came back from those two close losses to take down the Jags 25-16. Last week, Indiana soundly beat them 34-6.
For the Green Bay Packers (8-6) recently, it's been a good run. Their last loss was 42-24 to the Redskins on Nov. 20. Since then, they have beaten Philadelphia, Houston, Seattle and Chicago. In this game, they are hoping to notch their fifth straight win.
Minnesota Offense vs. Packer Defense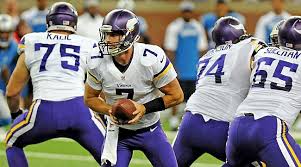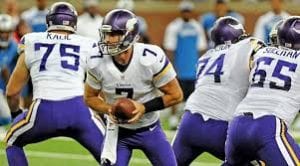 First things first- Adrian Peterson is out (again), and that really limits the offense, which has been fairly limited. The Vikings are averaging 18.9 PPG. The have no rush attack and very little in the passing area.
QB Sam Bradford (71.6 COMP%, 14 TDs, 4 INT, 33 Sacks) has been accurate but his frontline makes him especially vulnerable. Making things worse is that his two top receivers, wideouts Stefon Diggs and Adam Thielen, are both questionable, TE Kyle Rudolph leads the team with six touchdown catches.
The Packers are allowing opponents 24.2 PPG this season, but in their last four games, all wins, opponents averaged just 15.8 PPG. The packers have 34 sacks, 51 TFL, 16 INTs, and 72 PD. Those are impressive stats. They only have nine forced fumbles, but they have recovered six of those. Some of the top performers are questionable, including CB Damarious Randall (3 INTs) and Nick Perry (8 Sacks), LB Jake Ryan brings 8 TFL and 3 PD and safety Ha Ha Clinton-Dix has 5 INTs and 6 PD.
Green Bay Offense vs. Minnesota Defense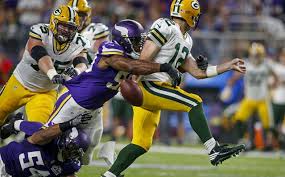 The Packers come to this game averaging 25.9 PPG. In the last four games, they've averaged 29 PPG. Aaron Rodgers (64.9 COMP%, 32 TDs, 7 INTs, 30 Sacks) needs to be protected by his frontline. Although WR Randall Cobb will probably not play due to injury, top wideouts Jordy Nelson, who has 12 TD catches, and Devante Adams, who's caught nine scoring passes, will play. At running back, Ty Montgomery (60 ATT, 390 YDs, 6.5 AVG, 3 TDs) has resurrected the Green Bay ground attack. He's also a threat as a receiver.
The Vikings are holding opponents to 18.5 PPG. They have 35 sacks, 12 INTs, and 12 forced fumbles. Minnesota also has 54 PD and 26 FF. Safety Harrison Smith will likely not play in this game. However, top sacker Danielle Hunter had taken down quarterbacks 10.5 times. CB Xavier Rhodes (10 PD, 4 INTs, 1 FF) is first on picks. It's a solid defense that allowed the Colts 34 points last week.
Our Minnesota Vikings play Green Bay Packers Free Pick
Our Minnesota Vikings play Green Bay Packers free pick has the Packers at -7.0. That's a big spread, especially due to the fact that the Green Bay D can go south at times and the Minnesota defense for the most part has been exceptionally tough. When they first met early in the season, the pack won 17-14.
But the Vikings are hamstrung on offense and we expect the defense to be out on the field more than they would like. At the same time, the Packer offense has done well recently against teams with strong D's, including the Bears and Seattle. We are going with the Packers today at -7.0. They play today in Green Bay with kickoff at 1 p.m.
Our Minnesota Vikings play Green Bay Packers Free Pick: Green Bay at -7.0