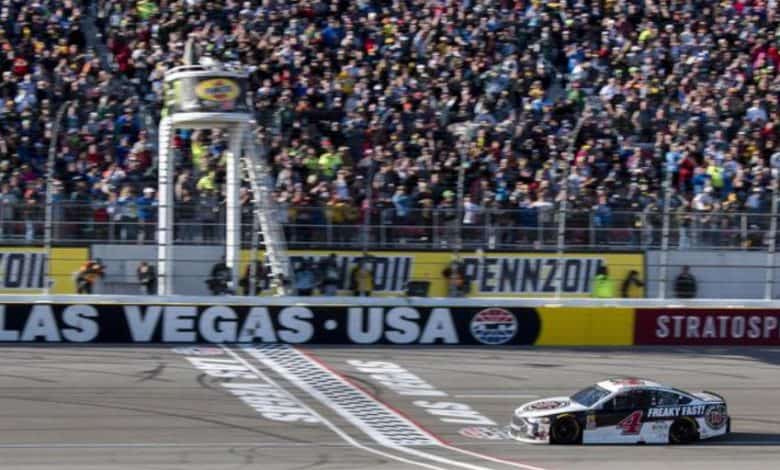 The Cup series shifts away from Florida for the first time this season as we head into 2021 Nascar Pennzoil 400 betting. Las Vegas Motor Speedway takes center stage in this race, the home track of the Busch Brothers, which is something to keep an eye on.
Joey Logano (+750) won this race last season, and has three top 5's in five total races this season. Kevin Harvick (+600) is starting in the pole on Sunday, and 9 of the last 18 winners at LVMS have started in the top 5. The track also seems to favor veterans, so the streak of wins by the likes of Michael McDowell, Christopher Bell, and William Byron over the last three weeks may be coming to an end.
Here are some of the best bets for Sunday's race.
Kevin Harvick +600
Harvick is a co-favorite with Martin Truex, Jr. in Pennzoil 400 betting, but there are a couple reasons to like the #4 Ford a bit more. 1st is starting spot, where Harvick holds a slight advantage in the pole compared to Truex, Jr. in 4th.
They're both great drivers at Las Vegas, Truex winning here in 2017 and 2019, and Harvick in 2015 and 2018. Harvick finished 8th here last season, but also led 92 laps – over 1/3 of the race. Harvick has also finished top 6 in four straight races, meaning it's only a matter of time before he captures one.
Pick: Harvick to win +600
Denny Hamlin +1000
The odds have dipped for Hamlin a bit – which makes it the perfect time to jump (stay) on board. He didn't bring home any wins in Florida, but has finished in the top 5 in two of the last three, not to mention has led 103 laps over that span, the most of any driver.
Hamlin has had his share of struggles in Las Vegas, having just two top 10s since 2014 before maybe, finally, conquering the beast with a 3rd place finish late last year (not the Pennzoil, but the South Point 400).
Pick: Hamlin top 3 +275
William Byron +1600
Not much love for William Byron after his win in the Dixie Vodka 400 last week. You can either play that as a once off, or the start of something big for the 23-year old. There's good value in the latter. Byron started 31st at Homestead, coming all that way to lead 102 laps.
Byron is starting #2 on Sunday, and is looking to make some big strides after usually struggling at Las Vegas. He finished 22nd here last year, but also got up as high as 2nd, ran 35 of the fastest laps, and spent 95.1% of the race in the top 15. Never underestimate confidence coming off a win as well.
Pick: Byron top 5 +265
2021 Pennzoil 400 Betting Head to Head Matchups
Joey Logano (-135) vs. Kyle Busch (+105) – It's Kyle Busch's home track and he's already raced here this weekend in the truck series. That being said Logano has won the Pennzoil 400 two times in a row, and Busch hasn't led a single lap this season. Worth spending up for Logano -135. 
Chase Briscoe (-110) vs. Ryan Newman (-120) – Briscoe will be making his Cup Series Las Vegas debut, against Ryan Newman who has competed in 9 of the last 10 races held here. Briscoe knows the course though, taking the last two Xfinity races here. Briscoe -110.