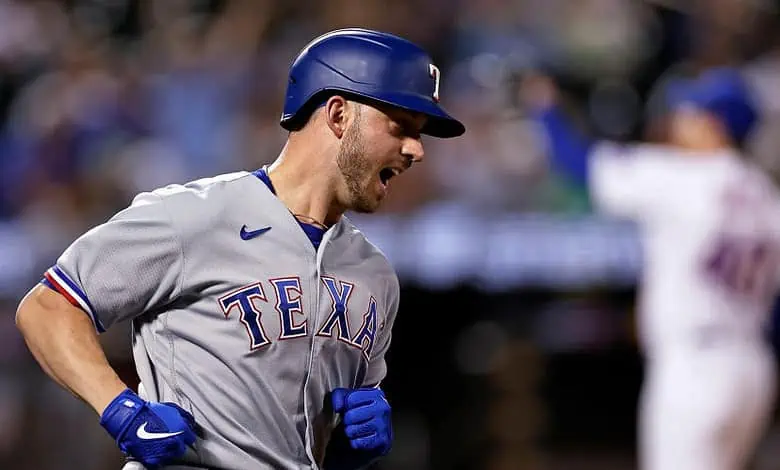 It's been a successful visit to the Big Apple so far for Texas, who has already picked up a 4-3 and a 2-1 victory over New York so far this week. Now the sweep is on the table heading into the August 30th Rangers at Mets betting matchup as Texas has climbed into a three way tie for 1st in the AL West.
Despite Texas (75-57) and the Mets (60-73) having two very different seasons, it's actually New York who is the -120 favorite for Wednesday's series finale. Texas at +100 even after they've taken the first two games this week does seem to have some trap qualities to it especially with approximately 85% of the betting public liking the Rangers.
Why the Rangers Have Value on Wednesday
Simply put, Texas just has more to play for in the August 30th Rangers at Mets betting matchup. Bruce Bochy's club has pulled back into a tie with Seattle and Houston for 1st place in the AL West, a spot they have held most of the Summer but slipped up following a recent 8-game losing streak. The Rangers seem to have put that behind them though winning three of their last four.
The Texas offense hasn't been its usual potent self the last two games yet they've still been able to produce a couple wins. The Rangers could get back on track offensively on Wednesday as they face Denyi Reyes who is being called up from Triple A to make his first MLB start in nearly three weeks.
The Rangers go with Dane Dunning (9-6, 3.36 ERA) for his last start of August. The right-hander has a respectable 3.64 ERA this month and has especially had success on the road (3.33) and at night (3.01).
Why the Mets Have Value on Wednesday
It could be justified taking the Mets solely as a contrarian play in this matchup, because there's not a lot pointing to them being realistically priced at -120. New York has dropped six of their last seven overall, while scoring just 13 runs over that span yet they are favored over a 1st place team? Roughly 85% of the betting public think the Texas line is too good to be true – which usually means that it is.
There are some things besides just being contrarian that could point to a play on the Mets. First off the Rangers are wrapping up a long 9-game road trip on Wednesday, one they have gone just 3-5 in so far. Texas could be looking ahead to their off day on Thursday and just returning home in general as they prepare for a final pennant run over the last month of the season.
Texas has also lost five of Dunning's last seven starts and he walked 6 batters while lasting just 4.0 IP last time out in a 12-2 loss at Minnesota. The Mets have their own pitching issues in the finale, but Reyes' last two starts have both come against the high-powered Atlanta offense so maybe he's not as bad as the numbers show (10 ER, 5.2 IP).
Free August 30th Rangers at Mets Betting Pick
It's hard to jump on the same side as over 80% of the betting public regardless of the sport, so a Rangers play is off the table. Dunning has had his share of struggles, but the Mets pitching is going to be an issue on Wednesday as well. That means the total is the way to go here, and both offenses should be able to have a fairly productive night.
Free Pick: Over 8.5