In our Monday Night Football free pick Green Bay plays Philadelphia. It's the end of week 12 in the NFL, and although this game will probably have no bearing on the playoffs, it stands to be an interesting one. The Green Bay Packers (4-6) are third in the NFC North. The Philadelphia Eagles (5-5) are last in the NFC East. That's the way these two teams stand. It's a battle between age, veteran QB Aaron Rodgers, and youth, rookie QB Carson Wentz.
The Green Bay Packers are on quite a ride losing five of their last six. When they met the Cowboys for their fifth game of 2016, the Pack had a record of 3-1. Dallas beat them 30-16. The next week, Oct. 20, they beat Chicago 26-10. That was the last time they won. The next four games resulted in losses to Atlanta (33-32), Indiana (31-26), Tennessee (45-25), and Washington (42-24).
The Philadelphia Eagles have done a little better, but not much. They're 3-2 through their last five. That includes a 23-10 win against Minnesota on October 23. They then lost two straight. During the Sunday night game, they lost to Dallas in OT 29-23. The next week, they lost to the Giants 28-23. They surprised Atlanta with a 24-15 win on Nov. 13. Last week, Seattle beat the Eagles 26-15.
Green Bay Offense vs. Eagles Defense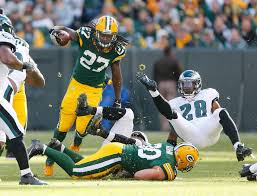 The Packers are scoring an average of 24.7 PPG. The Green Bay passing game is their primary method of offense. Of the team's 378.4 yards per game of offense, they're gaining 277.8 in the air. QB Aaron Rodgers (63.2 COMP%, 25 TDs, 7 INTs, 24 Sacks) is having a decent season. Wideouts Jordy Nelson (63 REC, 663 YDs, 12.5 AVG, 6 TDs) and Davante Adams (63 REC, 663 YDs, 12.5 AVG, 6 TDs) are his go to receivers. WR Randall Cobb (48 REC, 517 YDs, 10.8 AVG, 3 TDs) is his third dependable outlet.
With RB Eddie Lacy out and on injured reserve, the Packers have enlisted wideout Ty Montgomery (28 ATT, 145 YDs, 5.2 AVG, 0 TDs) as their running back. As far as active players go, Rodgers is the leading rusher with 40 carries, 259 yards and three touchdowns. He's averaging 6.5 YPA.
The Eagle's red zone defense is second in the NFL at 43.33% and sixth over the last three games at 40.00%. Philadelphia has 26 sacks, 37 TFL, 9 INTS, and 52 PD. They have forced 10 fumbles. Their take/giveaway margin is 4. For the Eagles, DE Brandon Graham is tops in sacks and TFL with five and six respectively. LB Nigel Bradham leads the team in tackles with 63, while safety Rodney McCleod has three picks and six passes defended. LB Jordan Hicks has three TFL, two interceptions, and eight TFL.
Philadelphia Offense vs. Packer Defense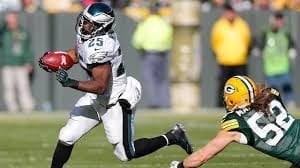 Philadelphia is scoring on average 24.1 PPG. That figure is almost exactly the same as the Pack. QB Carson Wentz (63.2 COMP%, 11 TDs, 7 INTs, 21 Sacks) will be tossing to WR Jordan Matthews (53 REC, 639 YDs, 12.1 AVG, 3 TDs) and TE Zach Ertz (35 REC, 337 YDs, 9.6 AVG, 1 TD). Leading running back Ryan Matthews (102 ATT, 427 YDs, 4.2 AVG, 7 TDs) will miss the game due to a knee injury. RB Darren Sproles (63 ATT, 319 YDs, 5.1 AVG, 0 TDs) is also questionable. Rushing duties may fall to Wendall Smallwood and/or Kenjon Banner. Both are capable.
The Pack defense is a shambles. Although at first glance the stats don't look bad, as they have 24 sacks, 43 TFL, and 48 PD. They are weak on interceptions (7) and forced fumbles (6). Opponents have forced 16 fumbles on Green Bay. Then there is the Packer red zone defense. For the season it is ranked 26th at 63.33% and for the last three games it's worse, as they are at 76.14%, putting them at 29th. Turnovers, the Pack is at -6, and red zone weaknesses are killing Green Bay. LB Nick Perry (41 TCKLs, 7 Sacks, 5 TFL, 1 INT, 3 PD) leads the team in sacks. LB Jack Ryan (59 TCKLs, 7 TFL, 3 PD), is tops in tackles for a loss. He's questionable for this game.
Monday Night Football Free Pick Green Bay Plays Philadelphia
This game comes down to defense. Over the last four games, the Pack has allowed opponents 38.25 PPG. The Eagles are giving up 24.50 PPG. Those stats could be the deciding factor. In our Monday Night Football free pick Green Bay plays Philadelphia we're taking the Eagles at -3.5.
Monday Night Football Free Pick Green Bay Plays Philadelphia: Philadelphia at -3.5