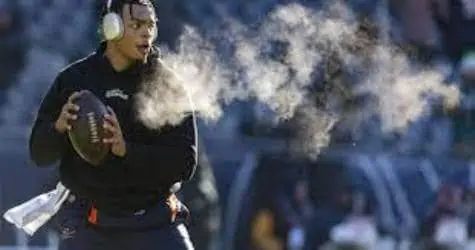 While the chestnuts are toastily roasting on the open fire, Buffalo and Chicago players are going to have to brave through chattering teeth in Saturday's Bills at Bears betting matchup. Temperatures at Soldier Field are expected in the single digits, with a 20 MPH wind off of Lake Michigan thrown in for good measure.
Buffalo (11-3) players are of course used to wintry conditions, playing in 1/2 a foot of snow in last week's 32-29 win over Miami. The Bills can clinch the AFC East with a win or a tie, and a Buffalo victory would also send the Bears to their eighth straight loss. Chicago is getting +8.5 points for this Christmas Eve matchup.
Bills Aim for Sixth Straight
Buffalo has put back-to-back losses to the Jets (20-17) and Vikings (33-30) behind them as they've rattled off five straight victories. Four of those five consecutive wins have been within one score though, including a 28-25 win in Detroit on Thanksgiving and a 20-12 rematch with the Jets in week 14, both games in which the Bills were -10 point favorites.
Buffalo did play in wintry conditions last Saturday which may have been nice preparation for the frigid Bills at Bears betting matchup. Josh Allen was 25/40 for 304 yards and 4 TDs while also running for 77 yards which may be a similar game plan in Chicago considering the Bears rank 27th vs. the run (143.9 ypg) and 22nd in total yards allowed (355.6).
The Bills defense did give up 188 rushing yards to the Dolphins last week, a large number especially considering Miami was out of their element coming from much warmer temperatures in South Beach. Chicago has the league's #1 rushing offense as well which could help them at least keep this one close.
Bears Too Banged Up?
The 3-11 season and seven straight losses are disappointing, but really this is the perfect scenario for the Bears. If you're going to lose, it's better to lose competitively as Chicago did 25-20 to the Eagles last week and in single digit defeats to the Packers, Lions, Falcons, and Dolphins on this current stretch. The Bears are now in line for the #2 draft pick.
While Chicago has kept some games close despite losing, that may come to an end on Saturday simply because of the sheer amount of injuries the Bears are dealing with. Two members of the secondary (Jaylon Johnson, Kindle Vildor) were added to the I-R this week joining Eddie Jackson while the Bears' leading tackler over the past six games, Jack Sanborn, is also out for the year.
Defense isn't the only side of the ball seeing some banged up Chicago players, as OL Teven Jenkins (neck) and Cody Whitehair (knee) are not expected to play vs. Buffalo. Justin Fields recently became the third QB in NFL history to run for 1,000 yards in a season, but he was also sacked 6 times last week vs. Philadelphia so playing behind an injured offensive line isn't ideal. Fields is also down three of his top four receiving targets as Darnell Mooney, Equanimeous St. Brown and Chase Claypool could all be shut down for the remainder of the regular season.
Free Bills at Bears Betting Pick
Chicago is a bad team when healthy, so how are they going to do when banged up? Even though it's going to be a frigid day at Soldier Field, Buffalo is still going to dominate this game by double digits.
Free Pick: Bills -8.5