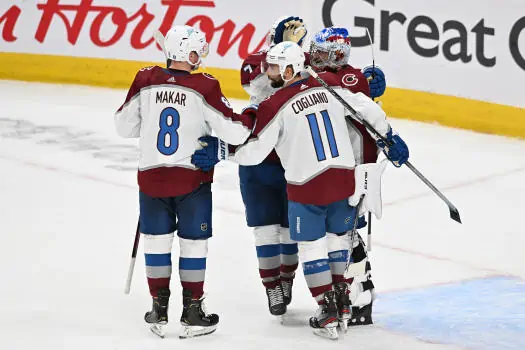 A playoff series doesn't start until the home team loses, but that's got Edmonton in a huge hole down 3-0 heading into the Avalanche at Oilers game 4 betting matchup. Colorado swept both games at home 8-6 and 4-0, but really took advantage of this series in a 4-2 win on Saturday night at Rogers Place.
The Avs' have some value at -135 in this spot with Edmonton demoralized and facing elimination. The O/U is 6.5 with the 'under' hitting in the last two, but with both offenses being in the top 7 in scoring during the regular season. Are the Oilers the play with their season on the line or is Colorado just the much better team in this series?
Francouz Carrying This Team
A surprise MVP of this series has emerged with Pavel Francouz filling in for the injured Darcy Kuemper (upper body) the last 2.5 games. Kuemper had allowed 3 goals on 16 shots in the series opener, but Francouz came in to preserve the Game 1 win, had a 24 save shutout in Game 2, and stopped 27 of 29 shots even on the road to guide the Avs to a 3-0 series lead.
With Francouz proving himself on the road in Game 3, it makes Colorado look like a solid play in the Avalanche at Oilers game 3 betting matchup. When you can hold the Oilers' #7 scoring offense (3.5 goals/game) to two goals in two games that's the sign of a guy in the zone.
Of course, Francouz isn't doing this himself, as the Avalanche offense stepped up once again even with Nazem Kadri (87 points in regular season) being lost probably for the series and maybe the season after a cheap shot from Evander Kane 1:06 into Game 3. Valeri Nichushkin had two goals on Saturday and Mikko Rantanen added an empty-netter for his third straight goal in this series.
Edmonton With Last Chance
The Oilers had the #1-2 scoring punch in the entire NHL during the regular season – and post season – with Connor McDavid and Leon Draisaitl but all that has gotten them is a 3-0 hole in the Western Conference Finals.
McDavid has been solid with two goals and two assists this series, but Draisaitl was on the injury report with a bum ankle and it looks like that may be bothering him as he produced 2 assists in the opener but has been held off the score sheet the last two. Edmonton will not have Kane on Monday as he serves a suspension, and Ryan Nugent-Hopkins and Zach Hyman have both gone cold after a torrid start to the postseason.
There's not a whole lot more the Oilers can ask of Mike Smith in net, as he's rebounded from his poor performance in Game 1 as he's allowed 7 goals the last two games but while facing 82 total shots.
Free Avalanche at Oilers Game 4 Betting Pick
Can Edmonton prolong the inevitable and at least have the pride of winning one game this series, or is the 0-3 deficit simply too much to even muster up any effort on Monday night? It seems like this series was going to shift either way depending on Game 3 and with the Oilers losing that one back at home it will be broom time for the Avs'. Either way, that's a solid price to see it on Colorado.
Free Pick: Colorado -135