Free Expert Sports Picks
MLB Picks
New York Mets at Tampa Bay Rays Betting Pick
The New York Mets and the Tampa Bay Rays get together for an interleague weekend series beginning Friday night.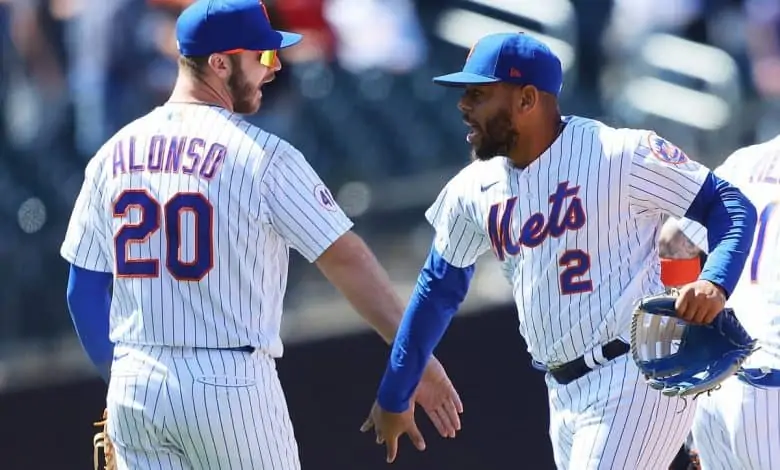 The New York Mets (18-13, 7-9 away) and the Tampa Bay Rays (20-19, 8-12 home) get together for an interleague weekend series beginning Friday night. This weekend will be the only time these two franchises get together this season.
Friday night's first pitch is set for 7:10 p.m. EST inside Tropicana Field in St. Petersburg, FL. According to oddsmakers, the Rays are favored (-150), and the run total is 7.
What to Know – New York Mets
New York rolls into the weekend riding a seven-game winning streak. The Mets haven't lost in over a week as they embark on a nine-game road trip. The stretch of victories has moved New York into first place in the competitive National League East standings.
Southpaw David Peterson (1-3, 5.54 ERA, 1.38 WHIP) takes the mound for the Mets in an attempt to extend the Mets winning streak to eight. Peterson has tossed 19.1 innings this season, allowing 12 earned runs on 18 hits with 21 strikeouts. The 25-year old lasted only 1.2 innings as he struggled with his control, scattering three hits and three walks.
The Mets average 3.6 runs per game, one of the lowest in the league, with a .238 batting average. Slugger Pete Alonso has emerged as the primary source of power for the Mets, blasting team-high five home runs with 17 runs driven in and a .259 batting average. Shortstop Francisco Lindor carries a six-game hitting streak into the weekend, his recent success at the plate has brought his average up from .157 to .202 after a sluggish start at the dish.
What to Know – Tampa Bay Rays
The Rays put together a five-game winning streak to start May but have since won just two of their last six contests. Tampa Bay dropped two of three to the Yankees this week, ending on a high note with a 9-1 victory on Thursday. The Rays have hovered around the .500 mark all season and sit in fourth place in the AL East.
Tampa sends its ace, Tyler Glasnow (4-2, 2.37 ERA, 0.89 WHIP), to the mound to face the Mets. Glasnow is third in the majors with 75 strikeouts this season, making eight starts and logging 49.1 innings of work. In his last start, the 27-year old pitched 5.2 innings, scattered two hits, three earned runs, four walks, and 11 strikeouts.
Offensively, the Rays score 4.2 runs per game while hitting .219 as a team. Designated hitter Austin Meadows energizes the Rays' offense, leading the team in home runs (8) and RBIs (21). In 12 games this month, Meadows has driven in 12 with four home runs.
The Pick is In
Expect a low-scoring contest here, with both pitchers navigating the orders with success. Both teams possess elite bullpens, so expect if either starter gets in trouble, the managers won't hesitate to turn it over to the relievers.
Glasnow has the upper hand over Peterson, but the Rays' offense hits slightly worse against lefties. Friday's contest might not reach six total runs.
The Pick: Mets/Rays Under 7 Runs