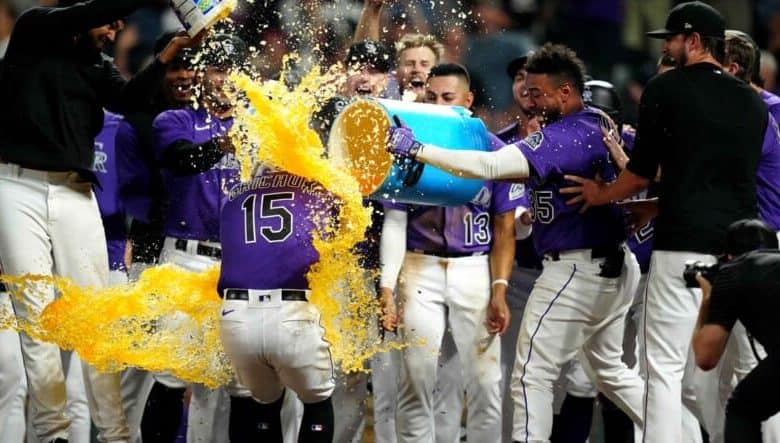 Milwaukee found out just how quickly things can change in the thin Colorado air as they held a 6-1 lead going into the bottom of the 8th inning on Tuesday before falling 10-7 in 10 innings as -189 favorites. What the Brewers have to do now though is put that heartbreaking loss behind them as they are out of the NL Central race (8.5 GB from St. Louis) but still within three games of the wild card.
Colorado essentially got a free win on Tuesday, as they are playing a lot of young players with the September callups. The home squad is a +120 underdog in the 9/7 Brewers at Rockies matchup after losing the opener at +128 and then coming back for a +172 victory in game two. A whopping 84% of the betting public likes the Brewers in the series finale.
Milwaukee Bullpen In Shambles
The Brewers looked well on their way to a series win on Tuesday before Luis Perdomo imploded allowing 4ER in the 8th inning (without recording an out) and Taylor Rogers giving up 3 in the 9th for a 10-7 defeat. That loss ruined the momentum of a 6-4 win on Monday as -136 favorites but dropping three of four at Arizona over the weekend still has to sting for a Brewers squad trying to climb into the last wild card spot.
With their bullpen issues Milwaukee needs a nice long outing from Eric Lauer (10-6, 3.54 ERA) in the 9/7 Brewers at Rockies matchup. That's especially true with Milwaukee having a doubleheader back at home against the Giants on Thursday. Lauer pitched into the 7th on Friday giving up just 2 ER to the Diamondbacks but got no help from his offense in a 2-1 loss as -112 favorites.
Colorado Have Momentum After the Comeback?
Randal Grichuk did a lot of the damage in Colorado's comeback win on Wednesday, hitting two HRs including a 3-run walkoff in the 10th. Grichuk finished with 4 RBI while Yonathan Daza and Elehuris Montero also added home runs. The victory was just Colorado's third in the last 12 games.
Colorado should have another solid outing at the plate on Wednesday considering Milwaukee's Lauer has a 14.63 ERA in five career starts at Coors Field. That puts value on the 'over' of 11.5 especially when Charlie Blackmon is 12-22 with 2 HRs in his career vs. the Brewers starter.
Kyle Freeland (7-9, 4.75 ERA) is up in the rotation for the Rockies posting a 4-4 record with a 6.10 ERA at home this year. Freeland has a 3.46 ERA on the road so he's really taking a beating having to pitch his home games at Coors Field. Christian Yelich is 0-6 with 3 K's in his career vs. the Colorado starter.
Free 9/7 Brewers at Rockies Betting Pick
That's a lot of public action on the Brewers for the line to barely move – and in the wrong direction at that – from -142 to -136. It's not great that the Rockies are 3-9 in their last 12 but Lauer has gotten rocked at Coors Field in his career and the Milwaukee bullpen is shaky at best right now.
Free Pick: Rockies +118
Free Pick: Over 11.5