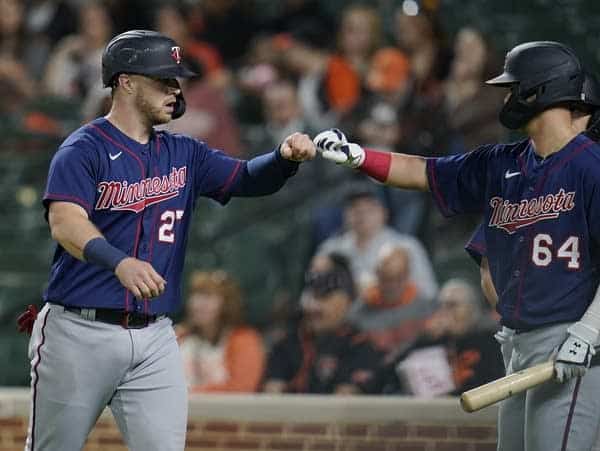 The May 4th Twins at Orioles betting matchup is a homecoming of sorts for Minnesota pitcher Dylan Bundy, who played in Baltimore from 2012 to 2019. Bundy was traded to the Angels back in '19, and one of the pitcher's featured in that transaction is Wednesday's Orioles starter Kyle Bradish.
Minnesota is a -145 favorite in game three of this four game set. The Twins have captured 2-1 and 7-1 wins so far this series as they continue to hold on to a four game lead over Cleveland in the AL Central. Baltimore is in their customary last place spot in the AL East, already 10 GB of the red hot Yankees. The Orioles did just take two of three from Boston in their last series, but overall are just 3-7 in their last 10.
Twins Rolling Right Now
Minnesota has won four in a  row and 10 of their last 11 to get to 15-9 on this young season. Their #12 ranked scoring offense (4.29 runs/game) was able to squeak out a 2-1 victory on Monday, but returned to form with Tuesday's 7-2 victory powered by a Ryan Jeffers HR.
Max Kepler was the only Minnesota starter not to get a hit in Tuesday's game, but he also left early with an illness and is questionable for the May 4th Twins at Orioles betting matchup. Injuries have been a concern early in the season with Miguel Sano and Alex Kiriloff both on the IL along with pitchers Sonny Gray and Bailey Ober. The good news is that Carlos Correa is heating up, going 13 for his last 27 (.481).
Bundy (3-1, 2.95 ERA) will try to bounce back from his first loss of the season where he allowed 6ER over 6.0 IP against Tampa Bay. Bundy had given up just 1 ER over the previous 15.1 IP so he's been a great offseason acquisition for Rocco Baldelli's squad.
Orioles Try to Get One
Baltimore came into this series with momentum after taking two of three from the Red Sox at home prior, but they can't get their offense going with just three total runs and 11 hits so far against the Twins.
It's going to be hard to get the bats going again on Wednesday with the way Bundy has pitched so far this season. Bundy is very familiar with Oriole Park at Camden Yards, making his 60th career start at his former home with a 4.50 lifetime ERA. The current Baltimore lineup is just 4-29 (.117) vs. Bundy.
25-year-old Kyle Bradish (0-1, 3.00 ERA) looks for his first career win in just his second MLB start. He threw 6.0 innings allowing 2 ER against the Red Sox on Friday but didn't get any help in the 3-1 Boston win.
Free May 4th Twins at Orioles Betting Pick
Minnesota has cashed as  -146 and -163 favorites so far this series so the -145 price tag seems like great value in Wednesday night's tilt. Is that too good of value though? 85% of public betting is on the red hot Twins and Bundy has been solid. Bradish was very good in his MLB debut on Friday, but there's film on him now.
Free Pick: Twins -145