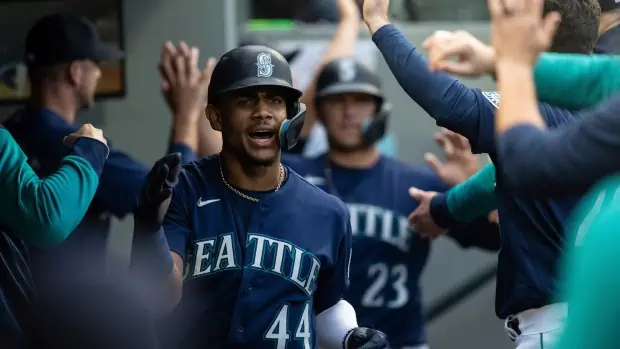 Oakland hopes to start a streak of their own in the May 25th Athletics at Mariners betting contest. The A's 7-5 win on Tuesday snapped a string of 13 straight Seattle wins in the head-to-head series, and now Oakland tries to make it two in a row in the finale on Wednesday.
Seattle's 7-5 loss on Tuesday came as -174 favorites after they had successfully cashed in at -161 with a 7-6 win in the series opener. The Mariners are back up to -175 in Wednesday's finale with a run total of just 7. Public bettors are split 50/50 on this contest.
Blackburn Gives Oakland a Chance
The A's are +155 underdogs on Wednesday which has some value not only because of their win on Tuesday that snapped a 13-game losing streak in the series, but also because Paul Blackburn (4-0, 1.91 ERA is up in the rotation.
Oakland has won in 7 of Blackburn's 8 starts this season, the one loss being the only game he allowed more than 2 ER. The right-hander has allowed 3 total runs in his last three starts, and has only given up one HR all season. Blackburn has a 1.37 ERA in five road starts this season.
The A's have belted out 25 hits over the first two games of this series so their offense is in the groove a bit. Tony Kemp has gone 5 for 9 while Chad Pinder, Jed Lowrie, and Elvis Andrus have all gone yard. Not bad for an Oakland team that is last in MLB in team BA (.211), and in the bottom three in OPS, HR, and runs/game.
Seattle Tries for Series Win
The Mariners were hoping for a sweep here coming into a series against a team they had won 12 straight against, but now they are just going for the series win. Seattle is back home after a 3-7 road trip, but pitching continues to be an issue.
Seattle allowed 33 runs in getting swept over a four game series in Boston and now have allowed 13 over two games to one of the worst offenses in baseball. Reigning AL Cy Young winner Robbie Ray (4-4, 4.77 ERA) will try to make the May 25th Athletics at Mariners betting matchup a pitcher's duel, but he's had his share of struggles this year.
Ray has allowed 9 ER total in his last two starts and 4+ in three of his last four. The left-hander has fallen prey to the bad inning many times this year, giving up 19 runs in five bad frames and just 10 in his other 49.2 IP. If he does that again on Wednesday this game is all but over the way Blackburn has pitched for Oakland.
Free May 25th Athletics at Mariners Betting Pick
It's really hard to back the Mariners here at -175 with how Ray has been prone to the bad inning this year. Oakland's offense has had a good series so far with 25 hits, and the Seattle pitching staff is in a free fall overall. The fact that the Mariners have won 13 of the last 14 in this head to head matchup is a little concerning, but that didn't matter in the A's win on Tuesday.
Free Pick: Oakland +155