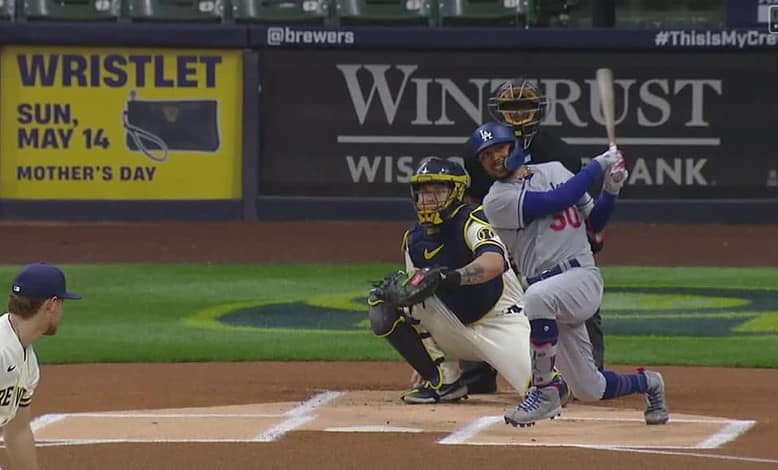 L.A. and Milwaukee have both won a game this week which sets up a rubber match in the May 10th Dodgers at Brewers game Wednesday afternoon at American Family Field. Los Angeles evened things up with a 6-2 win on Tuesday with a -118 price tag while the Brew Crew won the opener 9-3 on Monday as -117 favorites.
Oddsmakers have the Dodgers way up to -165 for the series finale, a price reflective of Clayton Kershaw getting the start for L.A. Milwaukee counters as +140 home underdogs behind Wade Miley, who has been the most consistent starter on a staff that also includes Corbin Burnes and Brandon Woodruff.
Why the Dodgers Have Value on Wednesday
Kershaw (5-2, 2.53 ERA) was the first NL pitcher to five wins and the left-hander getting the start in the May 10th Dodgers at Brewers betting matchup gives L.A. an instant lean. Oddsmakers are making bettors pay to back Kershaw though, as the -165 ML is his highest since his first two starts of the season – both which came against Arizona.
Kershaw has been solid in 2023, in fact he held opponents to 3 hits or less for three straight starts before being roughed up a bit for 8 hits and 4 ER last Friday against San Diego. The Southpaw has loved pitching in Milwaukee over his career, posting a 1.57 ERA in 8 appearances at Miller Park / American Family Field.
Mookie Betts had a leadoff HR to get the party started for the Dodgers on Tuesday night and catcher Will Smith went 3-4 with a HR as well. Los Angeles has now won 9 of their last 11 and have also taken 9 of their last 13 from the Brewers.
Why the Brewers Have Value on Wednesday
Milwaukee has a tough matchup against Kershaw on Wednesday, but the Padres got to the left-hander last Friday knocking him out of the game after just 4.1 IP. Plus, L.A. got just one inning out of Noah Syndergaard on Tuesday after he had to leave with a cut on his finger, so the Dodgers bullpen was stretched out as Dave Roberts used 7 relievers, so the Brewers could have an advantage late in the game on Wednesday.
There's a lot of pressure on Christian Yelich in the series finale, because the rest of the Milwaukee lineup is just 1-37 combined against Kershaw. Yelich has gone 9-26 (.346) with 2 HRs against the Dodgers starter however.
Miley (3-1, 2.31 ERA) looks like he had a bad outing last Thursday giving up 3 ER, but he was also pitching in Colorado and had 6.0 scoreless IP before a rough start to the 7th. Miley had allowed 3 ER total over his previous three starts, and has a miniscule 1.59 ERA in three home starts this season.
Free May 10th Dodgers at Brewers Betting Pick
This game has low scoring affair written all over it, as Kershaw has dominated in Milwaukee over his career but Miley has been nearly unhittable at home this season as well. The side seems like it could go either way as Kershaw will be solid, but the Dodgers bullpen is stretched a bit after Syndergaard's 1.0 IP on Tuesday. That makes -165 too much to pay for L.A., but still has the 'under' looking good.
Free Pick: Under 8