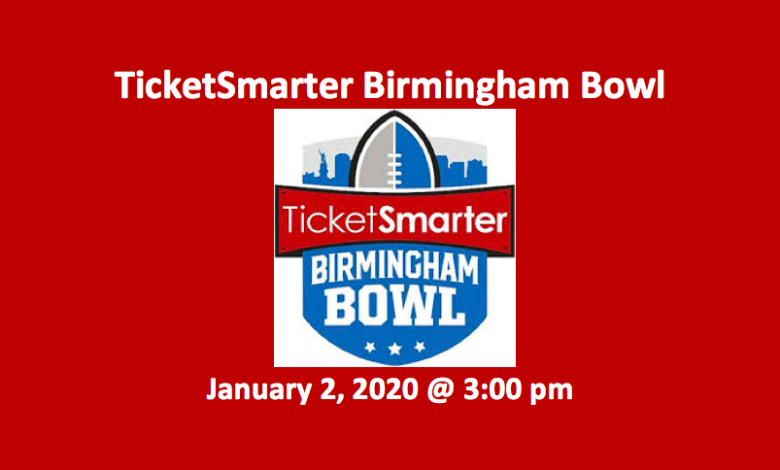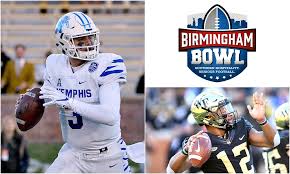 Our 2020 Birmingham Bowl pick is one of two games being played on January 2, 2020. Along with this Birmingham Bowl prediction, we have our Gator Bowl pick featuring the Indiana Hoosiers and Tennessee Volunteers. That game will be played at 7:00 pm ET. In this article, we assess the TicketSmarter Birmingham Bowl, which features the Boston College Eagles and #21 Cincinnati Bearcats will be played at Legion Field in Birmingham, Alabama. Kickoff is at 3:00 pm ET. The Cincinnati Bearcats are favored by 7.5 and the over/under stands at 55.0.
The Boston College Eagles (6-6) went 4-4 in the ACC, finishing tied for third with two other teams in the Atlantic Division. Those teams were the Syracuse Orange and Florida State Seminoles. Note, they finished four games behind the conference champion #3 Clemson Tigers. In contrast, the Cincinnati Bearcats (10-3) finished first in the AAC East. They were 7-1 in the conference and finished one game ahead of the UCF Knights. Consequently, the Bearcats played the #17 Memphis Tigers for the conference title. The Tigers beat the Bearcats 29-24. As a result, Memphis took the ACC crown.
2020 Birmingham Bowl Pick – Regular Season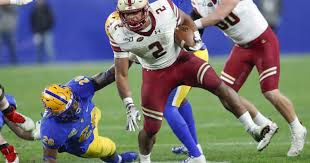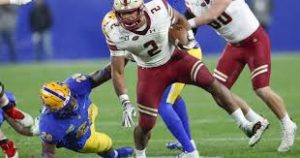 At the start of the season, the Eagles won their first two games, beating Virginia Tech and Richmond. After that, the Eagles would never win two games straight. BC's first loss was on September 13 to Kansas. The Jayhawks doubled-up on the Eagles 48-24. During the season, Boston College played two nationally ranked teams, #4 Clemson and #16 Notre Dame. They lost both games, The Tigers trounced BC 59-7. After that, the Fighting Irish took them out 40-7. Ending on a high note, Boston College did beat Pittsburgh 26-19 in the last week of the season.
Conversely, the Bearcats started their season with a win and a loss. That win was 24-14 against UCLA. In their next game, Ohio State destroyed the Cats 40-0. After that, Cincinnati ran off nine wins in a row. In that nine-game run, they beat #18 UCF, South Florida, and Temple. However, Cincinnati's season did not end well as they lost their final game of the season. Ironically, or perhaps logically, it was the #18 Memphis Tigers who took down the Bearcats 34-24. As noted already, our 2020 Birmingham Bowl pick reiterates that those same Tigers would beat the Cats in the AAC championship game.
Boston College Eagles vs Cincinnati Bearcats – Stats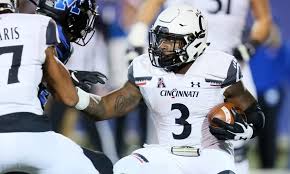 The Eagles averaged 30.9 PPG while the Bearcats scored 29.0 PPG. BC racked up yards. On average, they were good for 451.3 per game with 267.8 YPG rushing. They passed for 183.4. On the other hand, the Cats were not as prolific. The averaged 385.0 YPG. Cincinnati averaged 187.7 passing and 197.6 rushing YPG.
Although the Eagles appear to have the edge on offense, they do not enjoy the same advantage on defense. The Bearcats are allowing opponents 21.7 PPG. Contrasted to that stat is that of the Eagles who are giving up 31.7 PPG. In terms of yardage, Cincinnati allowed 376.6 per game with 233.2 in passing and 143.4 in rushing. Compared to those figures, the BC Eagle defense was porous, giving up 299.6 passing yards, 180.8 rushing yards, and 480.3 total yards.
Boston College at Cincinnati – Players
Boston College is down some of its biggest players on offense. Plus, it's defense is weak. The Bearcats are deep on both sides of the ball. They can certainly score as well as stop opponents from scoring.
Boston College Eagles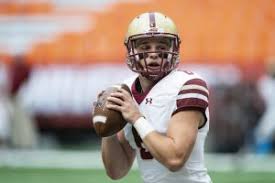 Our 2020 Birmingham Bowl pick observes that BC quarterback Anthony Brown is out with an injury and star running back A.J. Dillon has opted out of the game. We expect sophomore QB Dennis Grosel to get the nod. Over the course of seven games, Grosel has passed for 896 yards and nine TDs while tossing three picks and being sacked eight times. He's completing just 48.6% of his passes. Grosel has also rushed for two scores. Sophomore RB David Bailey comes to this game with 816 yards and seven TDs on 140 carries. He's averaging 5.8 YPA. Three receivers have 20-plus catches each and a total of 10 TD catches. WR Kobay White has half of those touchdown receptions.
The BC defensive stats are not very impressive. They've recorded 16 sacks, 10 interceptions, 40 PD, and seven FF with seven recovered. They do have one pick six. On this side of the ball, LB Max Richardson is the anchor. Richardson has 72 solo tackles, 108 total tackles, and 3.5 sacks. DB Mike Palmer has recorded two INTs and three PD.
Cincinnati Bearcats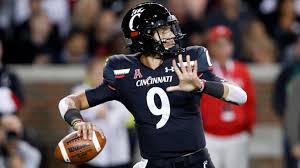 Sophomore QB Devin Ridder has tossed 17 TDs and nine INTs, Ridder, who completing 54.8% of his passes, has thrown for 2,069 yards. He's been sacked 25 times. Also, Ridder can run. He's gained 545 yards on 123 carries and scored twice. There's a quartet of pass catchers with 20-plus receptions each. TE Josiah Deguara has caught 36 passes with seven going for scores. RB Michael Warren II has rushed for 1,160 yards and 14 TDs. He's averaging 4.8 YPA.
The Bearcat D has posted three pick-sixes and has amassed 16 INTs, 13 FF, and 29 sacks. They've also defended 46 passes. Safety Darrick Forrest leads the Cincinnati defense. He tops the team with 61 solo tackles and 104 total tackles. Forrest has recorded three INTs and three PD. Safety Ja'Von Hicks brings five picks to this game, while LB Michael Pitts leads the team with 5.5 sacks.
Five Keys to the Game
This 2020 Birmingham Bowl pick notes the following keys to this game:
BC is down a QB and RB
Bearcats have a tough D
Eagle defense is problematic
Cats offer consistency
Boston College is in disarray
Our 2020 Birmingham Bowl Pick
Our 2020 Birmingham Bowl pick notes that along with missing their primary offensive weapons, the Eagles will be coached by interim head coach Rich Gunnell. Gunnell, a former BC receiver and assistant coach, replaced Steve Addazio who was recently fired. With gaping holes on both sides of the ball, Boston College is at a major disadvantage in this game. Plus, the Cincinnati Bearcats come in purring on all cylinders. We're going with Cincinnati at -7.5. We're taking the under at 55.0. Although we feel as if the Bearcats will run up the score, we also think the Eagles will have a tough time permeating the Cat D.
Birmingham Bowl Pick – Summary
Cincinnati Bearcats at -7. and over 55.0