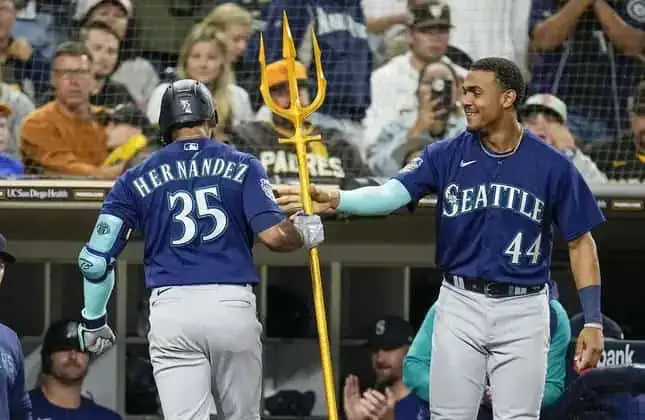 Seattle has a chance at a quick two game sweep at Petco Park if they can pick up a win in the Wednesday June 7th Mariners at Padres betting matchup. A dazzling performance from Logan Gilbert on the mound (7.0 IP, 3H, 1 ER) gave the M's the 4-1 win on Tuesday to cash as +115 underdogs.
San Diego dropped the series opener as -124 favorites, and are similarly priced at -120 for game two. The Padres have alternated wins and losses their last 9 games, a trend that would leave them in line for a win on Wednesday afternoon (4:10 PM ET, Root Sports / Bally Sports). Public betting is split nearly 50/50 for this contest.
Why the Mariners Have Value on Monday
Both Seattle (30-30) and the Padres (28-33) are 4th place teams in their respective West divisions and each are 4-6 over their last 10. With fairly even numbers like that, it seems the better return on investment would be on the visitors at +100 in the June 7th Padres at Mariners betting matchup in what could essentially be called a coin flip game.
Gilbert threw 7.0 IP of 1 ER ball on Tuesday night and Seattle also got 2 shutout innings from their bullpen with all three pitchers combining to hold San Diego to just 4 hits. Gilbert had allowed 5 ER to the Yankees in his previous start which kind of gives an indication to where the Padres offense is at right now as they've been held to 1 run in four of their last seven overall.
George Kirby (5-4, 3.04 ERA) will try to hold the San Diego offense at bay for a second straight game to give the Mariners the two-game sweep. Kirby is making his first start in June after Seattle was 4-2 in games when the right-hander started in May, including a 1-0 win over the Yankees last Wednesday when he went 8.0 IP allowing just 3 hits.
Why the Padres Have Value on Wednesday
The "every other" trend favors the Padres in this matchup after their poor performance on Tuesday night. San Diego has split their last 9 games going L-W-L-W-L-W-L-W-L and in each of their last three games when losing while scoring just 1 run they've bounced back to plate at least 5 the next game.
Seattle starter Kirby looked good last Wednesday against the Yankees, but it's also important to remember that the start before that he gave up 4 HRs to Pittsburgh as part of a 7ER allowed over 4.2 IP performance.
The Padres send Michael Wacha (5-2, 3.48 ERA) to the mound on Wednesday trying to salvage a series split. The veteran right-hander continues his career resurgence after going 11-2 with Boston last season and he's coming off a month of May where he posted a 0.84 ERA while allowing just 3 ER over 32.0 IP.
Free June 7th Mariners at Padres Betting Pick
Seattle has won five straight vs. the NL West, but Tuesday's win was just their first in the last five road games. San Diego is below .500 at home (14-18) but have won four straight following a loss. Until this alternating W-L-W-L trend snaps for the Padres, we can ride it at a fairly solid price for Wednesday.
Free Pick: Padres -120