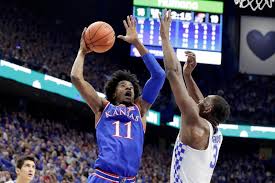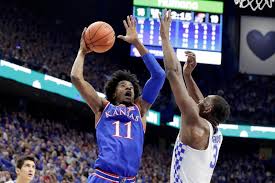 The biggest matchup on Saturday, February 18 has the #3 Kansas Jayhawks (23-3 Overall, 11-2 Big 12) at the #4 Baylor Bears (22-9 Overall, 9-4 Big 12). The Jayhawks are first in the conference and the Bears are second. The first time this season these two teams met was on Feb. 1. Kansas won that game 73-68. Our Kansas plays Baylor college basketball free pick has the Jayhawks at +2.0 and the over/under at 144.
The Jayhawks have four wins in their last five games. Their one loss came on Feb, 4 against Iowa State. The final score in overtime was Iowa State 92 and Kansas 89. Wins include their defeat of Baylor as well as Kansas State 74-71, Texas Tech 80-79, and West Virginia 84-80 in OT.
Baylor has gone 2-3 over their past five. After losing to the Jayhawks on Feb. 1, the Bears lost to Kansas State 56-54. The team then won two straight, beating Oklahoma State72-69 and Texas Christian 70-52. They last played Feb. 13, losing to Texas Tech 84-78.
Kansas Jayhawks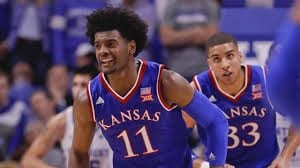 Forward Landen Lucas (7.6 PPG, 8.4 RPG, 62 FG%) is the anchor in the frontcourt. The backcourt features numerous versatile players who can shoot, rebound and defend. Top scorer Frank Manson III (20.2 PPG, 4.3 RPG, 4.9 APG) is a 49% field goal shooter and a 51% three-point man. Josh Jackson (16.5 PPG, 7.2 RPG, 3.0 APG) is a 51% shooter and a top rebounder. Also in the backcourt are Devonte' Graham (13.2 PPG, 4.3 APG, 45 FG%) and Sviatoslav Mykhailiuk (10.5 PPG, 3.3 RPG, 45 FG%). Both are solid three-point shooters.
Baylor Bears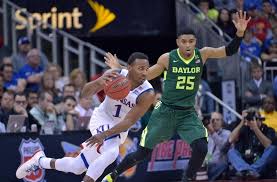 The Bears offer a strong inside game that's led by forwards Johnathan Motley (16.7 PPG, 9.5 RPG, 53 FG%) and Jo Lual-Acuil Jr. (9.3 PPG, 6.9 RPG, 58 FG%). Together, they are blocking close to four shots per game. Guard Manu Lecomte (12.8 PPG, 4.1 APG, 44 FG%) is accurate from downtown 43% of the time. Guard Ishmail Wainright (5.4 PPG, 5.0 RPG, 3.4 APG) and forward Terry Maston (7.6 PPG, 4.0 RPG, 54 FG%) underpin the backcourt and frontcourt.
Kansas Plays Baylor College Basketball Free Pick
Our Kansas plays Baylor college basketball free pick sees this as being a close game. The Bears have a solid frontcourt, while the Jayhawks are better in the back. If Kansas can hit from downtown, they'll stand a good chance of winning. But if they can't and Baylor controls the boards, this game will go to the Bears. The Jayhawks have been hot as of late and so we're taking them at +2.0.
Kansas Plays Baylor College Basketball Free Pick: Kansas +2.0