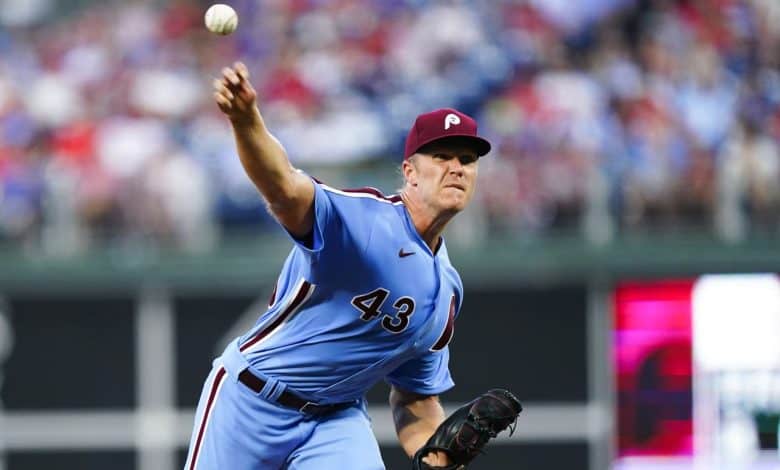 A couple of NL East foes meet up in the August 10th Marlins at Phillies betting pick. This is the second in a three game series with Philadelphia capturing a 4-1 victory on Tuesday as -220 favorites. That's the Phillies sixth win in a row and their 11th in the last 12 games.
Philadelphia is down to a -122 favorite in Wednesday's game two (MIA +104) which should be a solid pitching matchup (O/U 7.5).  The Phillies are 7-4 head-to-head against the Marlins this season, 20-7 their last 27 against the NL East, and have won six straight home contests. Despite everything going for them, 60% of the betting public likes Miami.
Alcantara Back in Rhythm?
Sandy Alcantara (10-4, 1.88 ERA) admitted that throwing just one inning in the All-Star game threw him off his routine. It showed too as Alcantara gave up 2 ER over 6.0 IP (still a great outing) and then 4ER over 5.0 IP against the Mets.
Alcantara had pitched into the 7th inning in 13 starts prior to the break, but he looks like he's back to himself after throwing a complete game shutout against the Reds last Wednesday. Alcantara is 4-1 with a 1.98 ERA on the road this season and is 1-1 with a 2.45 ERA in three starts vs. the Phillies this season.
Pitching shouldn't be a problem for Miami in the August 10th Marlins at Phillies betting matchup, but their offense has scored a run or less in 5 of the last 7. The Marlins haven't scored more than 3 runs since a 6-4 loss to the Mets on July 29th, averaging 1.44 runs/game over their last 9.
Phillies Go for 7 Straight
Philadelphia lost a 13-1 meeting with Atlanta on August 2nd but that has seem to be the wake-up call that they needed. The Phillies have since won six straight after going 19-8 in June and 15-10 in July so this is a team moving in the right direction.
What's unfortunate for the Phillies is that their strong play in recent months still has them 10 games back from the 72-39 Mets. Philadelphia still has the #2 spot in the wild card standings, but that could take a hit against Alcantara on Wednesday. The Phillies hit just .174 as a team vs. the Marlins ace with Rhys Hoskins going 6-31 with 12 K's. J.T. Realmuto – who had a HR in Tuesday's win – has hit .348 with a HR vs. Alcantara.
Noah Syndergaard (5-8, 3.83 ERA) makes his second start for the Phillies on Wednesday night. He gave up 11 hits and 4ER in his team debut last Thursday but Philadelphia still squeaked out a 5-4 win over last place Washington as -217 favorites.
Free August 10th Marlins at Phillies Betting Pick
Philadelphia is on a hot streak right now and they've got a good price tag at -122 on Wednesday night. The Phillies do have a tough matchup against Alcantara though, and it's unknown if Syndergaard can bounce back after a rough outing in his team debut.
Ultimately the Marlins offense is in a 9-game slump and Alcantara is usually great more times than he's off. That has things pointing towards a 3-2 or 2-1 contest and a play on the total.
Free Pick: Under 7.5