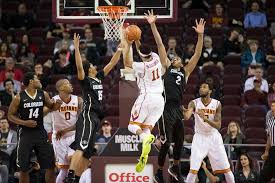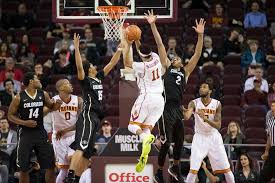 The #25 USC Trojans travel to play the Colorado Buffaloes on Sunday, Jan. 15 at 8:30 p.m. ET. The Trojans (15-3 Overall, 2-3 Pac-12) have struggled in conference and have has a tough week. Despite not having a conference win yet, the Buffaloes (10-7 Overall, 0-4 Pac-12) are 3.0-point favorites. Our USC plays Colorado college basketball free pick finds a major wrinkle in this game for USC. They do poorly at high altitude venues such as those in Utah and Colorado.
The USC Trojans are sixth in the Pac-12. In their last five games, all against Pac-12 opponents, they started our fine, beating Oregon State 70-63. But they struggled against #21 Oregon, losing 84-61 on Dec, 30. They started the New Year by beating Stanford 72-56 on Jan 5. Then things went south, as the Trojans lost 74-73 to California on Jan. 8 and were trounced 86-64 by Utah on Jan 12.
The last game the 11th place Buffaloes won was against nonconference opponent Eastern Washington. That 76-86 win occurred on Dec. 22. They started the New Year losing to Utah 76-60 on Jan 1 and then followed that with a 78-77 loss to Arizona State on Jan. 5. Two days later, they lost to Arizona 82-73. Their last game was against #5 UCLA on Jan. 12. That was a 104- 89 loss.
#25 USC Trojans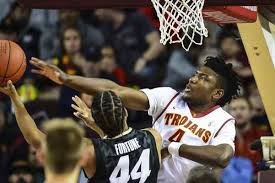 The Trojans are averaging 79.0 PPG while allowing 70.8 for a PF/PA differential of plus 9.8. USC has struggled from the point, as shooting by their guards has gone cold. Guards Jordan McLaughlin (14.2 PPG, 4.9 APG, 49 FG%) and Elijah Stewart (13.1 PPG, 5.3 RPG, 41 FG%) need to start making their shots again for this team to succeed.
Upfront play by 6-11 sophomore center Chimezie Metu (13.6 PPG, 7.9 RPG, 53 FG%) offers the Trojans a commanding presence. Nick Rakocevic, another 6-11 forward, us pulling down 4.1 RPG and hitting 55% of his shots. Freshman guard De'Anthony Melton (10.0 PPG, 5.3 RPG, 48 FG%) is a solid inside and outside presence. USC has a good defense that's averaging 6.1 BPG and 7.1 SPG.
Colorado Buffaloes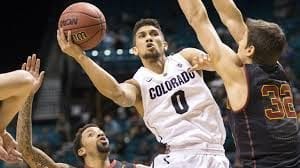 The Colorado Buffaloes are scoring an average of 75.1 PPG and allowing 71.1 PPG. That gives them a differential of plus 4.0 PPG. The Buffaloes offer a fine group of guards, which include senior Derrick White (16.0 PPG, 3.9 APG, 51FG%), Xavier Johnson (15.1 PPG, 5.6 RPG, 51FG%), and George King (10.6 PPG, 7.1 RPG, 44 FG%).
Their primary player upfront is freshman forward Wesley Gordon (7.8 PPG, 7.9 RPG, 47 FG%). Gordon is a 50% three-point shooter. Another freshman forward, Tory Miller (5.5 PPG, 3.3 RPG, 52 FG%) is also a 50% three-point shooter.
USC Plays Colorado College Basketball Free Pick
Will the USC defense be able to get the better of Colorado? How will the Trojans hold up playing at a high altitude. They struggled greatly in Utah and were blown out. Finally, can their shooters start hitting again? These are all major questions for a team that's struggling.
One positive note for the Trojans, the Buffaloes are having an even tougher time. Then again, Colorado made the tournament last year and had a big win this year at home against #22 Texas and #13 Xavier. This could be the game that gets them on track in the conference.
We think the home court will help Colorado greatly. Our USC plays Colorado college basketball free pick is Colorado at -3.5
USC Plays Colorado College Basketball Free Pick: Buffaloes -3.5