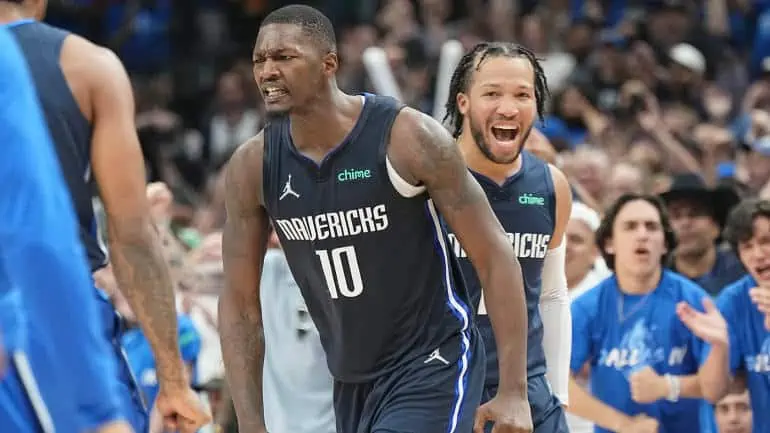 One half of the Western Conference Semifinals round heads back to Phoenix for the May 10th Mavericks at Suns Game 5 betting matchup. Being back at the Footprint Center does give the Suns an advantage as the home team has won each of the first four games this series, leaving us at 2-2 heading into Tuesday night's meeting.
The Suns are -6 point favorites in Game 5 – a number that seems high after Dallas has just won two in a row, but also low since Phoenix won by an average of 13.5 points the first two of the series. Nearly 70% of public betting favors the Suns despite the two game losing streak.
Take the Show on the Road
The American Airlines Center crowd has been electric the last two games, and they've fueled the Dallas defense to hold the Suns to 97.5 ppg over those two tilts. The Suns scored 129 and 121 in the two games in Phoenix, and had hit better than 50% of their shots in every contest of this postseason before hitting 45% in Games 3 and 4.
The only problem for Luka Doncic and company heading into the Mavericks at Suns Game 5 betting matchup is that this tilt isn't in Dallas. Dorian Finney-Smith was remarkable on Sunday hitting 8 of 12 three pointers, but he's just 2-6 from beyond the arc in Phoenix this series. Jalen Brunson averaged 23 ppg in Dallas – and just 11 ppg in Games 1 and 2.
If Dallas can get some of those other players to step up on the road they have a very good chance to keep this one within 6 points because Doncic has been great. He was more of a facilitator back at home with 26/13/9 in Game 3 and 26/7/11 in Game 4, but has averaged 40 ppg the two games in Phoenix. Maybe Doncic realizes that the Mavs are better when everybody is involved.
Redemption Game for Paul
The Dallas crowd got to Chris Paul the last two games mentally – and physically as he had a verbal altercation with a Mavericks fan after Sunday's loss. Paul had 7 turnovers in the first half of Game 3 and ended up fouling out of Game 4 after scoring just 5 points. Paul had 28 to help fuel the Suns 129-109 win in Game 2 so he's looking for a bounce back game in the return home.
Paul's struggles were the most magnified the last two games, but Devin Booker had just 18 in Game 3 – although he did erupt for 35 on Sunday. Deandre Ayton continues to be a force on the boards with 11 the last two games, but his scoring hasn't been anywhere near the 25 points in the series opener – averaging just 13 ppg the last two. Ayton does have 14 offensive rebounds this series however.
Free Mavericks at Suns Game 5 Betting Preview
Phoenix has been incredibly sloppy this series, committing just 9 turnovers in the opener but have a 14.1 turnover % since. The Suns are back home where the crowd we be on their side, but how much have the Mavs learned about their opponent over the last two games?
Doncic has been the best player in this series, but if he learns to get more of his teammates involved an outright win here is very much possible.
Free Pick: Dallas Mavericks +6